It's Veteran's Day!
Tonight Applebee's was offering an entrée to all veterans, so I took my mom (US Navy Veteran!) to claim her free dinner. It was a really nice thing for the restaurant chain to do... but the place was packed to the rafters, and most of them weren't veterans. They were just accompanying a veteran (like me, my brother, and sister-in-law). So Applebee's was making out like bandits, probably clearing one of their biggest money-making days ever. I actually think that's pretty cool though. Do something nice, and get something in return... everybody wins!
Which is why a group of friends and I continue to take turns grabbing names from AnySoldier.com and sending care packages to them while they're serving far from home. Soldiers get something that makes their lives a little better, and we get to be the ones who makes it happen... everybody wins!
If you want to know how YOU can help, I've written about AnySolder.com --here-- and --here--.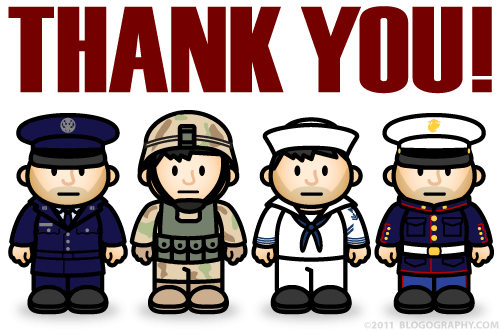 (With my apologies to the Coast Guard, but I haven't received a name in that branch of service yet!)
A heartfelt thank you to all those who are serving in our military or have served in the past (thanks mom & dad!) and those who have given their lives in service of a grateful nation.
I've said it before, but every day should be Veteran's Day.