Cruises have their pros and cons. The biggest pro is that you get to visit a lot of places without having to pack and un-pack your suitcase. Your "hotel room" travels with you, so all your stuff gets to stay where it is. The biggest con is that any time you're not visiting someplace, you're trapped on a giant boat. For some people, this is paradise... but for somebody like me, it's paramount to torture. And it's all my fault, I'm sure. I don't like doing arts & crafts. I don't like cheesy trivia challenges or BINGO games. I don't like non-stop eating. I don't like socializing with crazy strangers. I don't like going to the spa. And I really don't like "Broadway-style" shows and crappy comedy routines. That leaves walking around on deck and reading books all day. Which is okay... but not the kind of adventure I'm used to having while on vacation.
But it is relaxing because you get to look at stuff like this all day...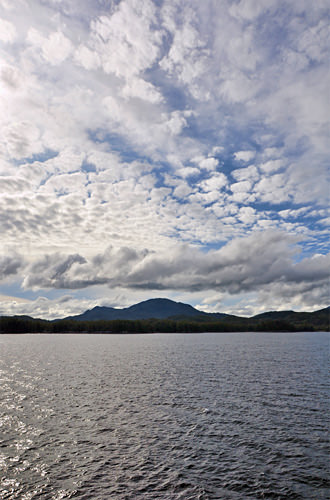 Except...
There are a lot of people onboard. And most people are idiots. And many of those idiots are assholes.
Yesterday after I got onboard, I immediately went to the shore excursions desk to confirm my reservations. I was third in line. The couple at the front of the line was finishing up, and gave their room number to the agent for billing. It was on the lowest deck in a not-so-glamorous area of the ship, which caused the guy ahead of me to say "Gee, they sure stuck you in a crappy cabin!"
How do people like this live with themselves?
For all anybody knows, that couple might have saved money for years for this cruise, and that cabin was the best they could afford. Suddenly a vacation they were excited about was crapped on by some moron with poor manners and a big mouth.
Me, being me, was compelled to say to the couple "Hey, at least you can take consolation that you're not on the jerkwad deck!" which was good for a laugh. Sure this makes me no better than the asshole, but what can I say? I live to humiliate mean people.
Because I will never understand those who gain happiness by bringing misery to others.
Which is why I very nearly screamed "SHUT YOUR FUCKING MOUTH!" to yet another dumbass who was heckling a musician playing on the pool deck. Here was this guy doing his best to entertain people. and he has to listen to some idiot keep interrupting him by screaming "FREEBIRD! FREEBIRD! FREEBIRD!" and "DO YOU KNOW ANY OTHER SONGS?"
People like to joke that I travel so much because I am a global assassin for hire. If that were true, I would kill this stupid fucker at no charge for the benefit of all society.
Anyway, it wasn't all boring today... there was some excitement too.
First of all, I saw a whale swimming outside the window during dinner. He was beautiful as he arched through the water, and it evoked a lot of "oohs and ahs" in the dining room. I didn't have my camera ready, so I can't show you what he looked like, but I can show you what he didn't look like...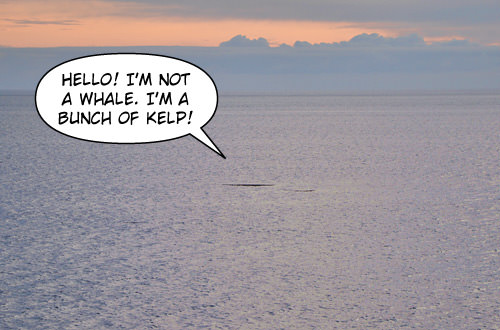 At first I found it funny when people would get all excited because they thought they were seeing whales, but were instead seeing a piece of wood or a blob of kelp. But after the tenth time it gets pretty tiring.
The second thing that happened is that we were attacked by pirates...
At least I thought they were pirates. It turns out that it wasn't a boat full of evil pirates after all... it was just a pilot boat making sure we didn't crash into the coastline or something.
But we didn't need pirates. There was already evil on board. AN EVIL TOWEL PIGEON WITH BEADY LITTLE RED EYES!! He was sitting on my bed when I got back from dinner...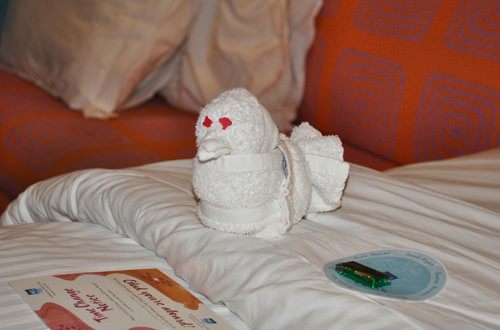 But the most exciting thing today was the sunset view from my balcony...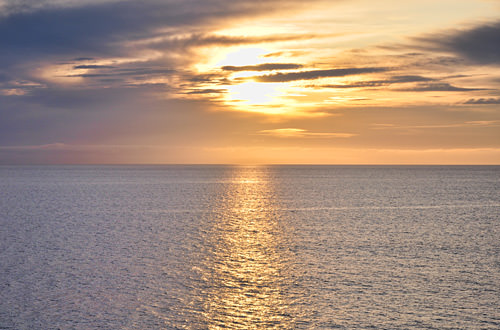 Pretty sweet. Tomorrow the ship arrives in Juneau. That'll be even sweeter.