It's getting to the point that I can't stand to attend public functions because there's bound to be people there.
And most people suck.
Today I attended a conference with other people and came very close to having to kill them all. It started with the dumbass who came in late then sat next to me eating an apple. I didn't pay good money to attend this shit so I could listen to an asshole chomp an apple while somebody is speaking. Then I nearly had to kill the two idiots behind me who were talking the entire time. And don't get me started on the bitch wearing fifty bracelets who was clanking and jingling every time she moved... which was often, because she was taking notes and flipping her hair every ten seconds.
It's this kind of inconsiderate bullshit that causes me to become homicidal. People PAY to attend conferences so they can learn stuff. But you can't learn stuff when you can't hear anything because people won't shut the fuck up and stop being a distraction.
It makes me want to hold my own conferences.
With an attendance of just one person... ME!
Unfortunately, the fee to attend such a conference would be a lot more money than I got.
Psycho Cat sez...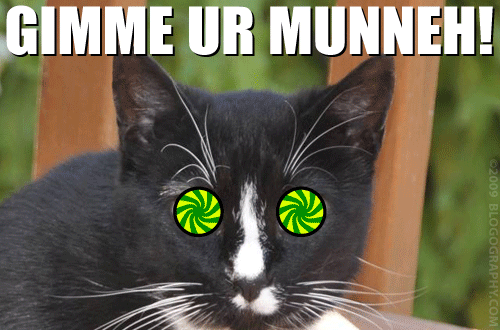 The good news is that once I blow this popsicle stand, I'm off to my sister's house.
It's party time.