After publishing a behind-the-scenes peek at how I created Avitable's Halloween Party shirt, I received a number of requests asking me to do something like that again. The problem is that the vast majority of the work I do outside Blogography simply can't be posted because of confidentiality agreements, copyright ownership, publishing royalties, and all kinds of other messy business. But every once in a while I get a fun assignment where the client doesn't mind me posting the details, so here we go again.
A while back, longtime Blogography reader Jon Whitby wrote asking if he could hire me to create a logo for the baseball team that his law-firm sponsors. Unfortunately, I was on my way to Dave York just then, but he was okay with waiting until I got back. There was a few days window before I had to get started on TequilaCon stuff, so the biggest hurdle... finding room in my schedule... had been cleared.
Corporate logo design is a long and complicated road that often involves numerous meetings and dozens of revisions. But fun logo design work like Jon was requesting is pretty straightforward. It was also fairly easy because he knew exactly what he wanted...
An understated design that didn't overwhelm the shirt... namely, a small "pocket-sized" design on the left breast.
A self-parody logo that plays off the idea of lawyers being sharks... namely, a cartoon shark in a business suit holding a baseball bat and wearing sunglasses. Also, putting him in a circle to neatly sidestep the question as to whether cartoon shark lawyers wear pants.
The shark should have a toothy, but not overly-frightening grin.
"Whitby Law Office" and "www.whitbylaw.net" should be worked into the design somehow. The name is more important than the web site, so it could go around the circle with the web URL below the design.
No white or pink shirts. Perhaps gray or navy blue would work best.
Two minutes of sketching, and this is what I had to start from...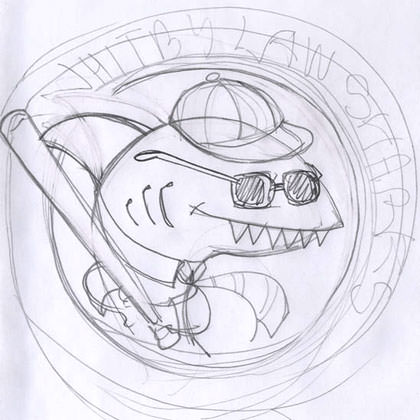 A few tough spots became immediately apparent...
I wasn't sure how to handle the fin on his back, and sketched it no less than six different ways before giving up. I decided to fix it when I actually drew it.
The teeth were kind of a puzzle. No matter how you draw a mouthful of large, pointy teeth, they look kind of scary. Since Jon was wanting "cartoony" I decided to give him an overbite and a goofy smile to compensate.
I thought it important that the team name "SHARKS" be in there, so I dropped "OFFICE" to make room, and made a note to ask Jon about it.
The glasses were kind of funky and floaty since sharks don't have ears to hold them up.
I ended up dropping the glasses and put some rounded eyes in there instead (I decided that I would create a second version with more menacing eyes, just in case I went a little too cartoony). My revisions set, I imported my sketch into Adobe Illustrator and drew a boundary circle to work around...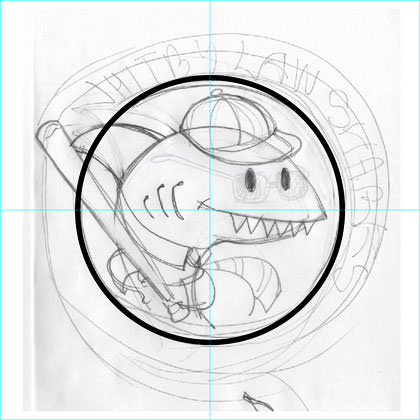 If you're interested in seeing what happens next, I've put the rest of the story (along with the finished design) in an extended entry...
Alrighty then. So far, I've spent about ten minutes sketching and getting it scanned and imported into Illustrator. Time to get to work! Since Jon is only familiar with the simple little cartoons I draw for this blog, I don't have to worry about what "style" I'm going to be drawing with... I'll just draw everything up Davetoon style!
The first thing I do is rough in the shark with the pen tool. I draw up the baseball bat next, since everything else will be built around it. Since sharks have kind of icy-looking eyes, I decide to leave them white instead of coloring them in with black like I do with Lil' Dave and Bad Monkey...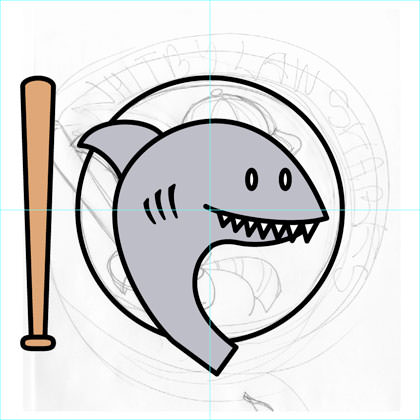 For a typeface, I choose Gill Sans, which is one of my long-time favorites. Designed by Eric Gill in the 1920's, it has a timeless look and maintains good readability, even when printed small. In addition, Gill Sans Black is one of the most beautiful heavy typefaces ever made, and has nice little cuts into the letters "K" and "R" that look like shark fins to me (making it especially appropriate here)...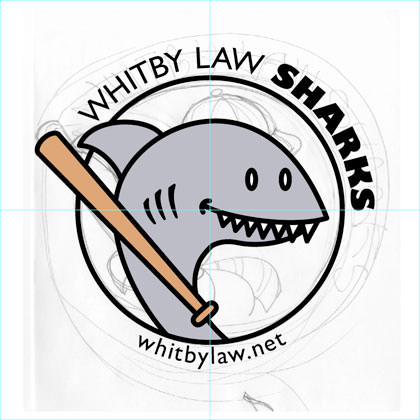 From here on out, it's all pretty academic. Since navy blue was decided as the shirt color, I drop that in. I usually design to four colors for economics in screen-printing, but the dark T-shirt means I'll have to add a white underprint so everything will show up. Since I draw stuff in Illustrator all day long, adding the hat, tie, and fins takes only about 5 minutes. I work on dressing him in a business suit, but a pocket-sized print is really too small to handle it with everything else going on down there, so I abandon it...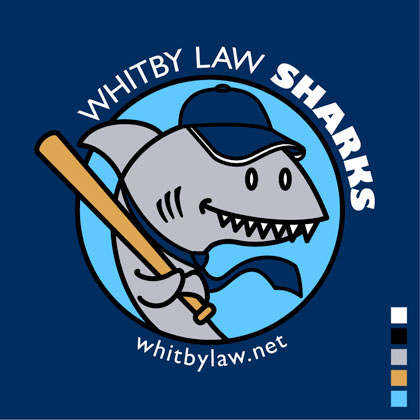 Since we've got a shark in the logo, I create a second version in six colors with a little blood-red thrown in. It will cost more, but who knows? Jon might feel like springing for it. At this point I should also note that the design could be dropped to four colors by removing the baby blue in the circle. It could also be dropped to one color and be just a white outline if Jon needs it that way too...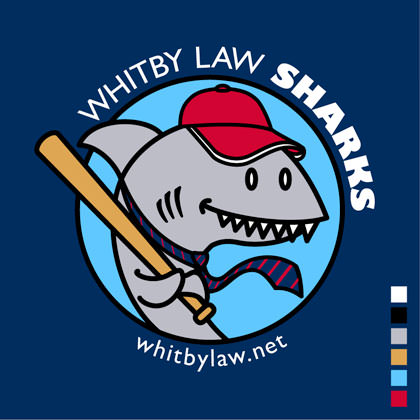 And then I pop in a more menacing "eye" just in case the above version is too cartoony...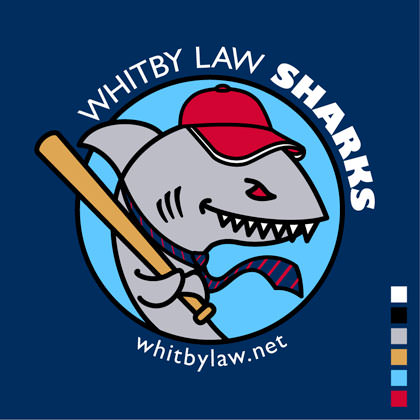 It's at this point I send my sketches to Jon to see what he thinks. From start to finish it's taken me about 15-20 minutes so far.
Ends up Jon and his baseball team like the sketch enough that they've decided to abandon the "breast pocket" print idea and instead have the design printed large in the middle of the shirt so people can see it better.
This presents a problem.
When you are drawing a shark that's to be printed 3-inches across, all you really need to do is draw a gray blob and stick some teeth in there. It's so small that you don't have to be accurate with the anatomy or anything. But now it's going to be printed much larger. People are going to notice that the "gray blob" could be a shark... but it could also be an eel or an earthworm or anything, really. So it's back to the drawing board, where I completely redraw the head so that it actually looks like a shark. I also add some weight to the lines so that the character has more dimension to it...
Since the design is being printed so much bigger, I reduce the size of the web address and turn it blue so it doesn't overwhelm the team name. The red was eliminated, which helps everything blend together better, and also makes the print less expensive.
And there you have it... one sharky logo in about 40 minutes. Best of luck to the Whitby Law Sharks this season!