Today when I turned in my kidney stone for analysis at the clinic, the nurse took one look at the massive size of it and said "Wow. I'll bet that was no fun to pass!" What I wanted to say was "Nah, it was a total party in my penis." What I actually said was "It was agony. It took two months, and I was having to travel most of that time." This got me a sympathetic nod, though I doubt she really understood.
And how could she? My days and nights spent in a pain-killer-induced haze while trapped in an airplane at 35,000 feet isn't easy to relate to unless you've done it. You're in agony, so you dope up on pills before the flight. Then you climb on board and pass out. All of a sudden you've landed in a strange city and have to figure out who you are and what you're doing there.
This is particularly scary when the strange city you find yourself in is your home town.
Anyway...
Of all the shopping experiences to be found online, Amazon is probably my favorite. They just seem to get everything right.
Which is why I was shocked to find that they could fail so badly.
I went to purchase a gift certificate as a "thank-you" gift, and was given these three options: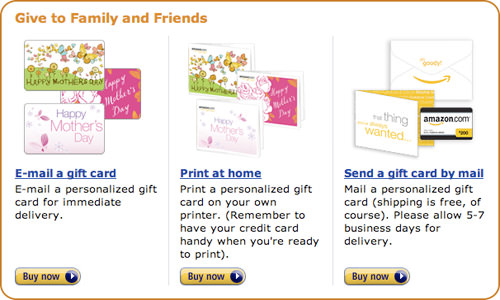 I decided to go with the email gift card, because it would be delivered immediately, and that way I wouldn't have to send a separate email with my thanks. Amazon would take care of two birds with one stone. Easy.
But not really.
After four hours, I had not received a confirmation that the gift had been sent. So I logged into my account only to find it had NOT been sent. Wondering if I had missed something, I went back to the gift card section to verify that I had read what I thought I read...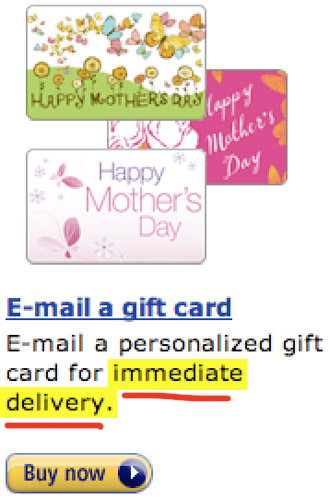 So I wrote to Customer Service asking them if they knew what "immediate" meant, and eventually get a reply...
Greetings from Amazon.com.
Please accept our apologies for the slight delay in processing your order.
It is always important for us to hear how customers react to all aspects of shopping at Amazon.com.
Due to the amount of your gift card order, we need to manually obtain authorization from your bank for processing this transaction.
We expect to send your gift card order shortly.
We will of course send you our usual e-mail confirmation to let you know when the order has been sent.
The amount of the gift card was $200. Not a tiny amount, sure, but they make it sound as if I was sending Fort Knox. This kind of pissed me off, so I fired back a reply...
Slight delay?!? It's been SIX HOURS now and my email gift card which was promised for "immediate delivery" has STILL not been sent!

I'd say the gap between "Immediate" and "Six Hours" is a lot more than a "slight delay."

This is very disappointing, especially considering I wrote to Customer Service with the problem and nothing has been done to remedy it. I sure hope you change the wording on your gift cards from "Immediate Delivery" to something else, because "immediate" is a gross exaggeration of reality.

"immediate: occurring, acting, or accomplished without loss or interval of time: instant."
- Merriam-Webster Dictionary Online
All this got me was yet another email telling me that the amount of my gift card would require 12-24 hours to process because they needed to get manual authorization from my bank before they can send it. From what I can tell, it took two days.
I was willing to overlook the problem, because it's possible the person designing the site didn't have the right information... but I emailed and told them it was wrong. They know there's bad information on their site. But when I go back to the gift card page at Amazon, it still says "immediate delivery" with no asterisk or disclaimer of any kind. They didn't correct the error. Apparently Amazon doesn't give a flying fuck that they are still lying to their customers.
And so... I guess won't be ordering from Amazon anymore, much as I like their site and service.
How can I, knowing that they deliberately lie to their customers?