The big news blowing through the blogosphere today is former American Idol runner-up Clay Aiken blasting away at how much he thinks current American Idol runner-up Adam Lambert sucks ass. Personally, I don't give a crap, and think Clay Aiken is entitled to his opinion. But what's so odd is that the words Clay uses to talk smack about Adam ("contrived, awful, and slightly frightening") is exactly... exactly... how I would describe Clay. I've never heard him sing a damn thing that didn't make me wish my head would explode... or wish Clay Aiken would explode... or both. This is like the suck-infested pot telling the suck-infested kettle that he sucks. Or something like that.
And speaking of horrific infestation...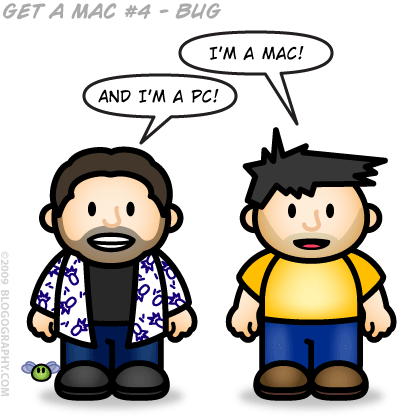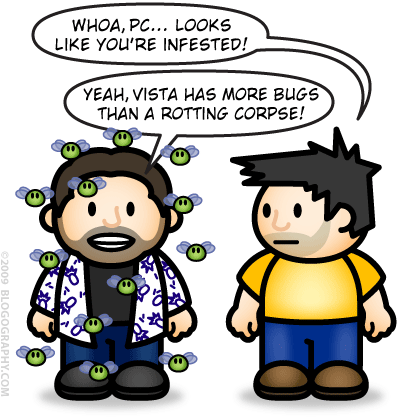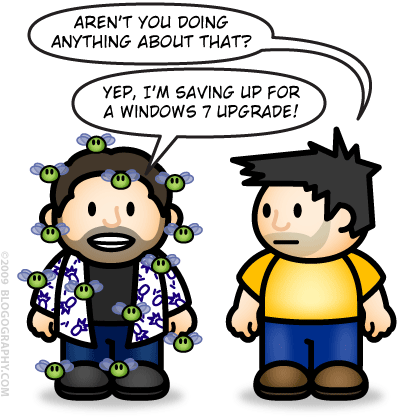 Yeah... Vista sucks ass and should have never been released in the first place, but instead of fixing it,* Microsoft is going to make you pay for an upgrade to Windows 7? What a crock of shit.
* And no, those Service Pack updates didn't solve nearly enough of my problems with Vista to make me consider it "fixed."
To see all of the Lil' Dave Mac vs. Lil' Wayne PC ads, click here!
On a happier note, I got an email from somebody who was very happy with my movie suggestion of Doc Hollywood this past Bullet Sunday, and wanted to know if I had any other "old movies" that I'd recommend. The film was released in 1991, which had me doing some serious reevaluation of what I consider to be an "old movie," but I did come up with two worth watching...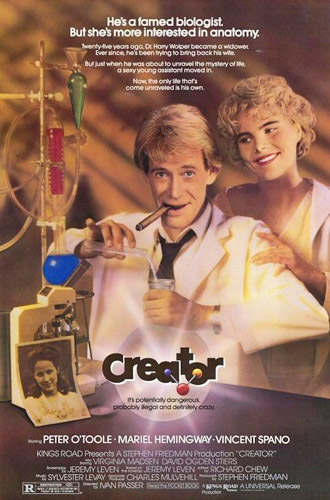 Creator (1985) Starring Peter O'Toole, Mariel Hemmingway, Vincent Spano, and Virginia Madsen. This movie was overlooked by most everybody and it's a real shame. Creator is a comedy with truly touching dramatic elements which has a lot to say about life, love, loss, and the science of it all. Peter O'Toole gives a fantastic performance as a brilliant but eccentric professor who's trying to clone his dead wife. It's definitely a level above your typical popcorn comedy, but oh so rewarding. Unfortunately, the DVD and iTunes versions are absolute shit... they butcher the film to crappy full-screen "pan-and-scan" which chops up the flow and framing of the film... but Flix is airing it in widescreen on the 26th at 12:05am Pacific (3:05am Eastern). If you get the Showtime/Flix channel package, you might want to set your TiVo, because this is probably the only way you're ever going to see this wonderful film unmolested.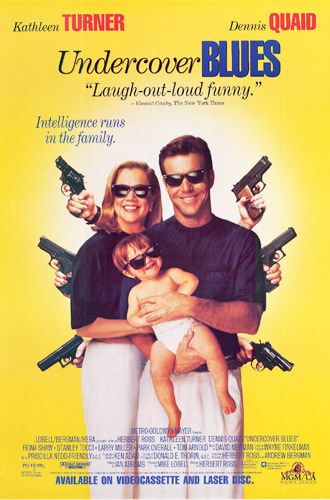 Undercover Blues (1993) Starring Kathleen Turner, Dennis Quaid, Fiona Shaw, and Stanley Tucci. Another overlooked gem that's one of my favorite movies of all time. Spies Jeff and Jane Blue are on maternity leave to spend time with their new baby, starting with a vacation in New Orleans. But when a situation comes up having world-shattering consequences, they are back in action for one more case. Hilarity ensues. I think what I like best about this movie (other than the fantastic way they integrate New Orleans into the story) is that there are no wasted moments. The plot moves ahead at full-speed from frame one, and takes you for a ride that's never boring and always funny. Definitely worth your valuable time to track down and watch.
I've seen each of these films at least a dozen times, but just writing this makes me want to see them all over again.
Unfortunately, I have to go back to work instead.