Once again feeling like the luckiest person on earth that I can show up in a city far from home and manage to find such an amazing group of people who would spend their valuable time hanging out with me. I don't know that I could ever adequately express just how much it means, but every time in every city... from the bottom of my heart... I am so very grateful. Who could have ever imagined that this stupid blog would add so much to my life? The people I meet, online and offline, have made my world so much bigger... so much richer... than I could have ever imagined.
Anyway...
The day was pretty simple, actually. Newark to New York. Hotel room not ready. Upper East Side. Downtown. Johnny Rockets (veggie burgers in stock, w00t!). Hotel room still not ready. Hard Rock Cafe Yankee Stadium. Hotel room ready! Times Square. Dave York. Union Square. Times Square. Good times had by all.
Thanks so much to those who could come along!
As usual, I was too busy talking with everybody to remember to take pictures... but a lot of photos were taken, so I'll be sure to link to them once they're up!
Just some random notes...
• If you're going to visit the brand new Hard Rock Cafe at New Yankee Stadium, it's probably best to NOT do so on a game day unless you have tickets to the game. It took me 20 minutes of going from one place to another to another to another before somebody would actually let me in the cafe. I guess everybody thought I was trying to sneak into the game or something, so I kept getting passed around. The cafe itself is smaller than I thought it would be, but quite nice...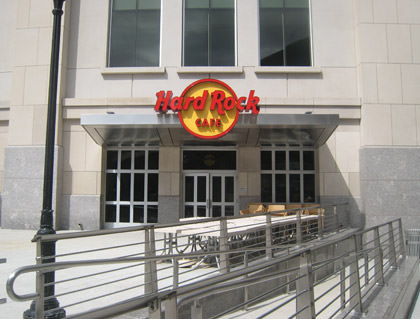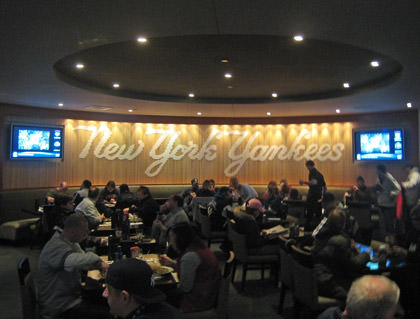 • I usually don't like to have blogger meets at Hard Rock Cafes because the loud music makes it hard to talk, and they are usually more interested in turning tables than letting people sit round and chat... but the Hard Rock Cafe Times Square was absolutely fantastic. Again! We had an amazing server taking good care of us, and it was a great experience all the way around. Thanks to everybody there for making Dave York... and now Dave York 2... such a great success!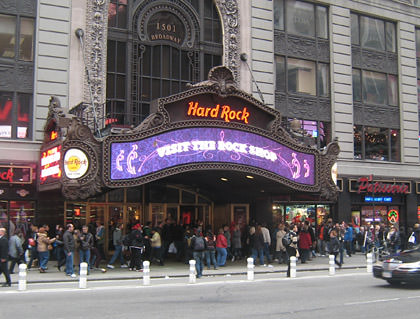 • When it comes to embarrassing you on your birthday... even when it's not really your birthday anymore... people you consider to be friends will happily report you to the "Birthday Humiliation Squad" so you have to stand on top of a chair in the middle of a crowded restaurant with a flaming hot-fudge sundae in one hand (your dignity in the other) while people scream "happy birthday" at you... all because they think it makes for great photo fodder on their blogs. The bastards!
• When they say "DO NOT TAKE THIS MEDICATION WITH ALCOHOL" on your prescription labels, it's probably a good idea to follow those directions. A couple shots of Jäger on top of my pills had my brain struggling to keep up with happenings around me. Which can be fun... or dangerous... depending on the situation.
• I really am one of the luckiest people on earth. Thanks again to everybody for such a great night!
UPDATE: Photos are slowly coming through. Like this one of my and ETinNY he sent me...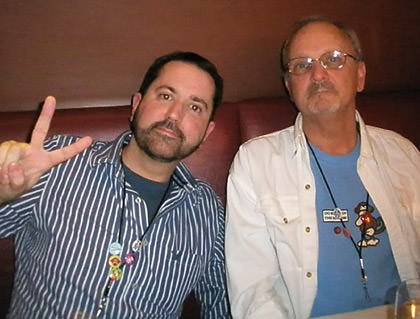 Peace out, baby!
And this shot of me accepting my un-birthday humiliation from Dawg's Flickr Set...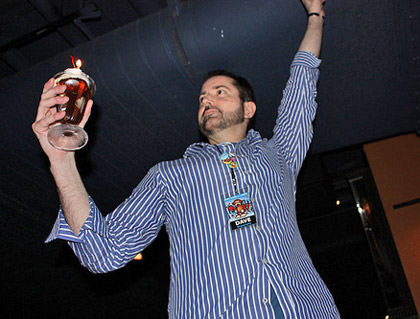 I'm the King of The World, bitches!
And some terrific shots from the ever-adorable Poppy's Flickr Stream (she has marked a set for Dave York 2, but only put one photo in there!)...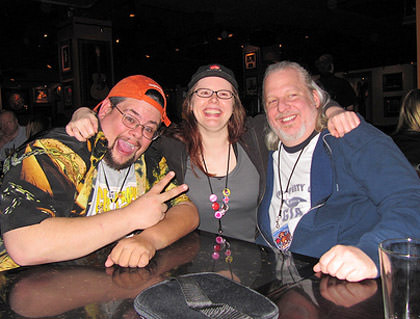 Dawg and Poppy with B.E. Earl.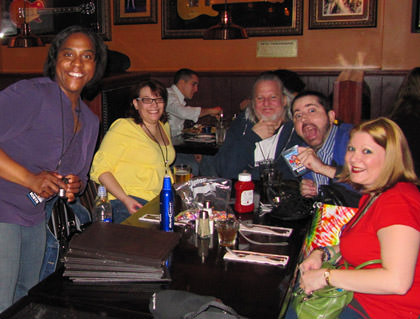 Robin, Libragirl, B.E. Earl, Me, and Cissa!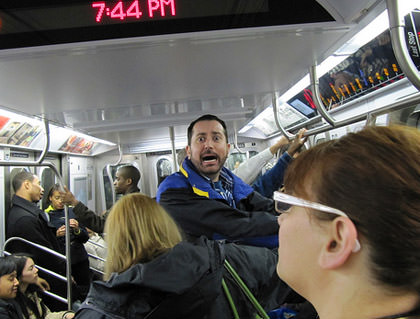 How non-New Yorkers envision a ride on the subway.
UPDATE: And now Bellaventa and Libragirl have put up a set on Flickr...
UPDATE: And now Cissa has put up her set on Flickr...
I'll add more as I find 'em!