Bullet Sunday from Boston... could there BE anything more exciting?
• Photographic I just updated yesterday's Dave York 2 entry with a few photo links from Dawg, Poppy, Bellaventa, and Cissa! Dawg even has Poppy Streaming Video of me on his site. w00t!
• Friendly. I have a long-time good friend in Boston whom I haven't seen in ages, so I decided to cash in a few frequent flier miles and take the super-convenient Delta Shuttle plane up to Massachusetts. Even if I had paid, it's still cheaper than the train (WTF?) and a lot faster, delivering you from New York LaGuardia's Marine Air Terminal...
To Boston Logan in just a little over an hour...
• Rock. I made a point to visit Boston's new Hard Rock Cafe at the Faneuil Hall Market Place so I would once again be caught up with all the Hard Rocks in the US and Canada. I admit to being a bit disappointed that the exterior is so frackin' BORING, but they did a nice job on the inside... even if it doesn't replicate the more classic stylings of the Boston original at Copley Square...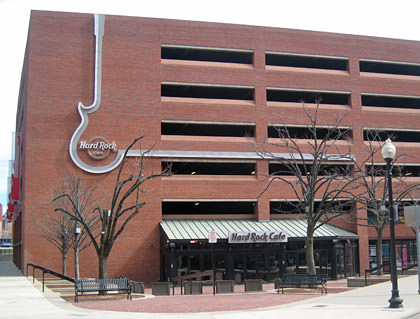 • Revereware. While waiting for my friend to arrive in Little Italy, I wandered around The Freedom Trail for a while. Boston is a great walking city, packing a lot of great sites in a fairly small area. You can even walk part of the path Paul Revere took on his famous "midnight ride" to warn patriots about British troops arriving, starting at his house (which is now a small museum)...

One if by land, Two if by Sea!
• History. The bad thing about Boston is that everything is hugely expensive. The art museums here are anywhere from $12 to $17, which is pricey when you consider I just came from London where many of the greatest artistic treasures ever made are free to look at. New York isn't any less expensive, but at least they have The Met (one of the greatest art museums in the world) with only a suggested donation admission (where you can literally pay one penny and see everything). The good thing about Boston is that their greatest treasures... historical sites and beautiful parks... are free to wander around...

The Old Courthouse... site of the Boston Massacre!

A small slice of beautiful Boston Common park.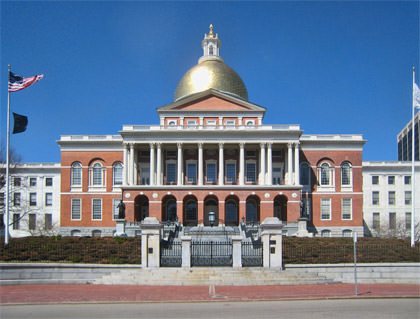 The Massachusetts State House at Boston Common.
• Graveling. Call me macabre, but the old cemeteries in Boston are probably my favorite attraction. Not only can you see where a number of famous historical figures are buried, but you can also spend hours looking at the tombstones, which are brilliant, beautiful, and sometimes even funny...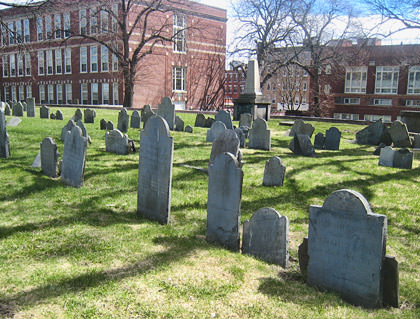 Here lies buried in a stone grave 10 feet deep Daniel Malcom...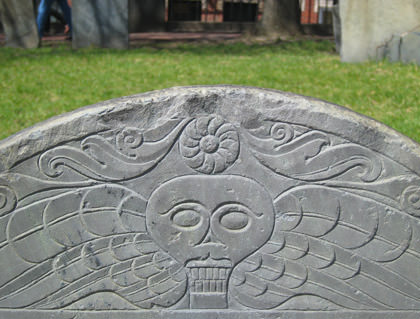 The workmanship is really quite beautiful.
And thus ended my very short trip to Boston, where I then hopped the shuttle back to New York for dinner at Ray's Pizza.
Mmmmm... pizza...