More is not necessarily better. I found this out the hard way when buying bread.
Wanting to eat healthier, I started buying Oroweat "Multi-Grain" bread instead of their "Country White" bread. Like all Oroweat breads, it was delicious. Then one day they didn't have Multi-Grain, so I bought their 7-Grain. It was even MORE delicious. This led me to conclude that MORE GRAINS = BETTER. So when I was at the store and saw that Oroweat makes a 12-Grain Bread, I was understandably intrigued. "That's FIVE MORE GRAINS OF DELICIOUSNESS!" I thought.
Turns out this was not the case. 12-Grain wasn't nearly as delicious as 7-Grain.
I can only guess it's because there's a grain threshold for bread where, after you achieve the perfection of seven grains, things just go downhill from there. I made a graph to explain it...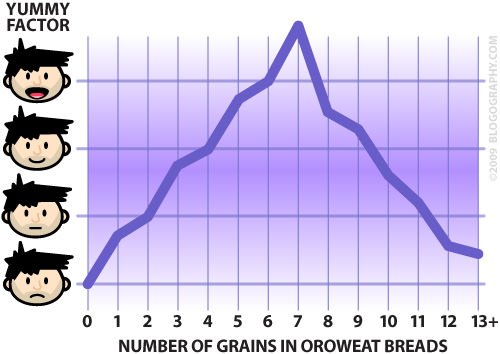 The problem is that this goes against the very principles we hold dear here in the USA, where more is always better.
Which begs the question... why does Oroweat hate America?