As I get older, my sense of time seems to be slipping away, causing me to get things mixed up in my head. As an example, I regularly think of events that happened 20 years ago as having taken place in the same time frame as something that happened 5 years ago. It's as if my mind is lumping all my past experiences together. I can figure out a chronology of events if I really think about it, but the distance between their happening is totally lost.
Which makes looking at old photos a real challenge.
While at my sisters house this past weekend, I found this picture of me...

It's Betty Crocker SuperMoist... there's pudding in the mix!
Noting the skinny tie and digital watch that I'm wearing, I'm guessing this was taken in the mid 1980's. Given the location, I'm thinking it's probably 1986. And that means it was 23 years ago, which seems impossible. I remember those times as if they were yesterday but, in reality, they were an eternity ago.
Reconciling these two conflicting perspectives is enough to make my brain explode if I dwell on it long enough.
And so I try not to.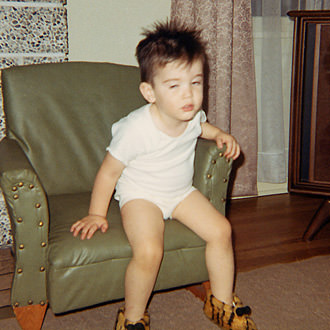 Cute! I was totally a NAMBLA wet dream!
So far, the denial has been working out quite well for me.
Which totally explains if I show up at TequilaCon wearing a T-shirt, tighty-whiteys, and a pair of tiger slippers.