A couple of months ago Avitable filled me in on the plans for his annual Halloween Party Bash, which I had attended the previous year. It seemed impossible that he could outdo himself, given how amazing things turned out last time, but he was working hard to do just that. He began with the theme The Neverwas Fair, and started building around the idea of an old-time sideshow carnival... with a creepy edge to it. And he wanted me to design a T-shirt he could use for fundraising.
It seemed the least I could do.
At first I wanted to do something dark and macabre... kind of grungy, dirty and twisted. Perhaps in charcoal and spattered ink. I had images of a ringmaster holding out his hat with snakes and spiders escaping from it. Maybe a circus tent in the background with an assortment of scary circus performers.
But everybody in the blogosphere associates me with the simple DaveToons I draw here, not the works I do "in real life," so I begrudgingly set aside my dark fantasies and grab a pencil and legal pad to do something entirely different. I still liked the idea of a ringmaster, so I decided I'd make a DaveToon Avitable ringmaster, and populate the background with cute DaveToon circus folk.
Here's the initial pencil sketch, which you can make bigger by clicking on it...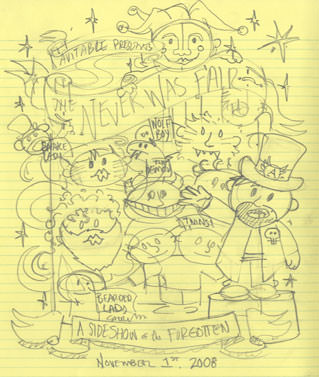 If you want to see the final design, it's over at Avitable's blog. He's got a pretty sweet contest going, so you might want to check it out.
If you want to see the steps of how the design was made, I've got that documented in an extended entry...
Usually with DaveToons, I'm in a hurry, so I don't sketch. I slap them together using Adobe Illustrator... mostly by cutting apart old toons and combining them to make new ones. Since nobody pays me to blog, I can't afford to take a lot of time on them. Every minute I'm blogging is a minute away from making a living. But this was a kind of complicated drawing, so I needed a place to start. Since I knew Ringmaster Avitable would be the focus-point. I drew him first, then locked him into place so I could build around him...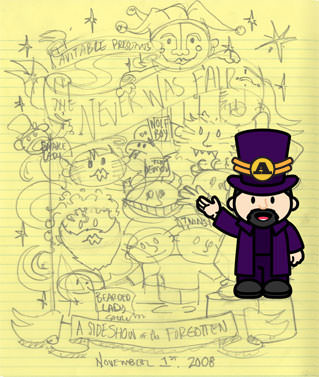 From there, I cloned a bunch of Lil' Daves as starting points for the characters. DaveDevil is one of my favorites, so I worked him in there... even though he didn't make much sense. I also put a Snake Charmer, Bearded Lady, Siamese Twins, and Wolf Boy. It was too crowded, so Tiny Tim and the Mime were dropped from my initial sketch. When shading Avitable, it quickly became apparent that the crest on his hat was a distraction, so I removed it. Ditto for the "starbursts" that I had sketched in, which disappeared after this step...
In the early stages, I mistakenly thought that the title was "NeverWHERE Fair," which you can see here. DaveDevil was obviously not going to work, so he was eliminated. I didn't know what was going to replace him, so I just stuck another Lil' Dave in there. The banner at the bottom needed to be a different shape, so I snagged one from iStock Photo so I wouldn't have to spend time drawing it myself. I shifted the Bearded Lady to the middle so the two ladies wouldn't be on top of each other. This left a hole, so I decided to make a Tattooed Giant in a diaper be there. Once I got the snake drawn, Bad Monkey made the left side a little too crowded, so I moved him in the frame. For a little racial diversity, I made Snake Charmer Black and the Tattooed Giant Asian...
Sometime between the last step and now, Avitable had talked about doing the shirts as a screen printing job. This meant that the number of colors I was using had to be dropped down to a maximum of six. This changed some of my initial ideas a bit, but I moved forward... drawing hair on the ladies... sketching out Wolf Boy... conjoining the Siamese Twins. The biggest change was when I decided to drop the harlequin at the top of the banner. I worried it would detract from the title too much. This was a little sad, because I liked him up there, but the good news was that I now knew what the new character replacing DaveDevil would be! Since the original pencil sketch was completely covered by now, I deleted it...
Now it's just mechanics. Going through character by character and drawing whatever was needed to make them work. I finally realized that the party was the "NeverWAS Fair," and simplified the typeface so it was more readable. Since it was shorter, I brought back the starbursts and put them in the banner... but hated them there. I needed something for Bad Monkey to be curious about, so I gave Harlequin Lil' Dave green lipstick and a star mole. Wolf Boy went through several versions of scary teeth, but I eventually shrunk them down to be less ferocious and more "cute." The tattoos were drawn from an actual tattoo I found via Google that was a dragon. But the dragon was distracting, so I dissected it and moved the parts around to create an overall pattern. To tie everything back to Avitable, I scanned in one of his drawings, converted it to vectors, and put it on the shirt of the Siamese Twins after I gave them new hair. I also found out that screen printing was out, so I could use more than six colors again (alas, I forgot to go back and add the diversity I had originally wanted in the characters)...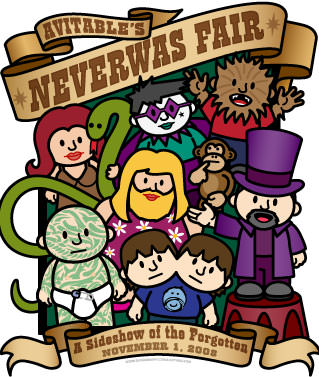 After a few color tweaks, I sent the illustration to Avitable, who requested that the name be changed to "The Avitables Present: The Neverwas Fair." This was a relief, because it allowed me to get rid of the stupid starbursts I had slapped in the banner to lengthen the text. I also decided to lighten things up a bit, and went through and made all the colors a little brighter and more "DaveToon-like." Tattooed Giant looked bored, so I had him stick his tongue out. I was going to add shading to all the characters, but once I got started the drawing looked overdone, so I decided to make everything flat-colors except Avitable (because he was in the spotlight)...
And that was that. I exported everything as a transparent PNG file, sent it to Avitable, and then I was done. The entire process (after sketching) from start to finish took a little under an hour-and-a-half (once you remove the email back-and-forth with Adam). Looking at it now, there are quite a few things I'd like to change... but that's normal. As some point you have to force yourself to say "THE END" or else you could go on tweaking forever.
The finished product is over at Avitable's blog where you can enter his nifty raffle... just click right here!
And now...
Culver's Caramel Cashew Sundae... it's what's for dinner.