After driving back down from Wisconsin, I spent most of the day working in my hotel room... only taking a two-hour break to run into the city and have Chicago Hot Dogs for lunch. Around 8:00, I'd finally had enough, and decided to walk down the street to the awesome Muvico 18 Theater so I could see a late showing of Tropic Thunder.
Despite some dragging in the middle, the movie was pretty great. Mostly in thanks to Robert Downey Jr. who is simply incapable of giving a bad performance. The guy is absolute genius in everything he touches, and this film is no exception...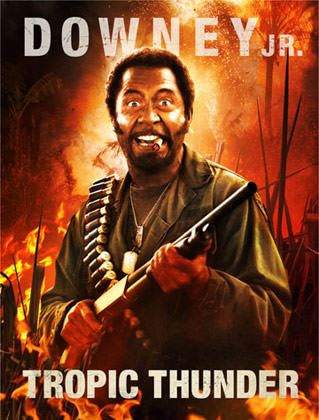 Before watching the movie, I was ready to dismiss the harsh criticism over how it demeans the mentally handicapped. People are just too sensitive now-a-days, and pretty soon you won't be able to poke fun at anything.
But then I saw the film.
And I have to admit that it is pretty offensive in this respect. Maybe it doesn't go entirely over the line, but it dances right on top of the line... not once, but many times. Tropic Thunder definitely doesn't seem to be laughing with the mentally challenged here... but instead laughing at them. That's a real shame, because the film doesn't need it. The plot elements could have been easily handled a different way.
Still, it would be difficult to dismiss the movie entirely... it was entirely too much fun for that.