Live from Chicago, it's another edition of Bullet Sunday!
• iPhone. When I got back from Davecago 3 last night and went to charge my iPhone, I found out that my power adaptor was dead. This was frustrating, but not a big problem, because I was going into the city and could just stop by the Apple Store and get a new one. But when I got there, something strange was happening. The line to get a new iPhone 3G had only one person in it. Not knowing quite what to do with myself, I made the snap decision to just get a new iPhone so I could finally have the GPS I need so badly in my travels (and go completely broke from having to shell out $299). I'll undoubtedly blather on about it later, but my initial reaction? Feels better in the hand, but design is not as nice as my first iPhone. Face feels more like plastic than glass (oh shit!). GPS is slow to acquire. 3G network is faster only sometimes and not widely available. None of my old complaints were addressed (clipboard, subscribed calendars, etc.). Conclusion? If Apple had put a fucking GPS in the original iPhone like they should have in the first place, I would never have "upgraded." Still a nice product, however.
• Doggity. Since earliest childhood, the only way I ever ate hotdogs was plain with ketchup. Now that I've started eating Chicago Style Hotdogs, I can't imagine eating them any other way (well, maybe one other way). Damn they're addicting. Fortunately, there's a vegetarian version here in Chicago at America's Dog, which is where I had lunch (again) today...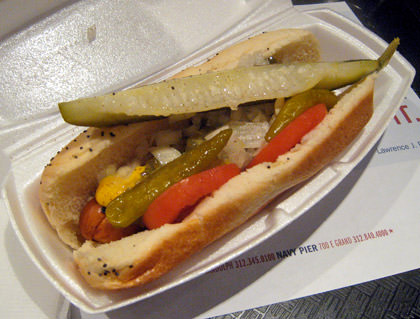 • Chef. Isaac Hayes, who I will forever associate with the phrase "Hello there, children!" from his character "Chef" on South Park has just died. I know that Hayes had a major falling out with Trey Parker and Matt Stone (creators of the show) a while back, which resulted in the death of "Chef"... but I sure hope that they do something on South Park to remember him and the years he worked on the show. It hasn't been the same since he left...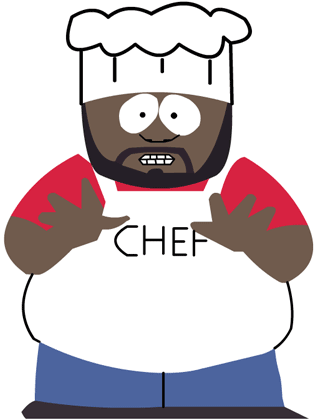 • Davecago 3. I hate to admit it, but RW over at 1 Step Beyond gave up a much better recap of the festivities than I could ever hope to write. Suffice to say that I had a great time, and was so very happy to meet some terrific new people...
Leah from Leah In Chicago - Accidentally Jewish. Oddly enough, Leah was the blogger I've been reading the longest that attended. In trying to figure out exactly when I first found "Leah In Chicago" I believe it was in 2004. I honestly don't remember how I bounced across her blog, but I think it had to do with Google research for one of my many trips to Chicago. At the time, she was gearing up to convert to Judaism, and I found it interesting, so I stuck around until she made the actual conversion in 2005. After that I continued to lurk around for a while, reading off and on for another few months until I lost touch. Then, in one of those wild coincidences that only seem to happen in the blogosphere, Leah made a comment on MY blog on an entry about Passover, and I had no idea it was the same Leah I had read earlier until much later. Bizarre, but cool coincidence.
Lynne from Life After Work. When I got an email from "Lynne" wanting to attend Davecago, I was thrilled that I was going to meet somebody I had never heard of before... until I went to email her back and recognized her email address as somebody who has been commenting on Blogography for years. That was one of those "slap-you-in-the-face" moments when I remembered that she too had a blog that used to be in my feed reader, didn't survive the transfer to my new computer, and had been plugging along for months without me. Horrified that a faithful commenter was going unread, I immediately added her back, and then faced the awful embarrassment of meeting her at last at Davecago without even knowing what's happening in her life. Sigh. I guess I'll be better prepared next time. Lynne also has a great Davecago recap here.
Suzanne. RW has branded her that "lurker who comes to your site, has no blog of her own, never comments and continually scares the living crap out of you." Fortunately, she's a lot friendlier in person.
Tori from Radioactive Girl. Tori is one of those bloggers who appeared from nowhere to comment on my blog, and all of a sudden I was seeing her pop up on other people's blogs I read. Then one day last month I finally went to her site and read her current entry, was instantly captivated... then browsed back a few entries... and there I was. She was writing about one of my favorite projects: AnySoldier.com and actually had a link to Blogography! Naturally, I was now in love with Tori. That love turned to obsession when she showed up to Davecago with packages of home-made brownies for everybody... complete with recipes! The brownies were so amazing and addictive that I was looking to see how many tablespoons of crack cocaine was in there. Answer? 1/2 Tablespoon. Sure she calls it "Kahlúa" but I know what she really means. Click here for Tori's Davecago 3 recap post!
UPDATE: Tori has relented and published the recipe for her amazing, highly addictive brownies! Click and rejoice!
And also to reunite with some old friends from Davecagos past...
I swear that every time I meet up with other bloggers I feel so amazingly lucky to have people like this in my life. It's not easy spending so much time traveling far away from home, but knowing I have a blogging family no matter where I go is a blessing in life that I just can't put into words. I have received criticism from those who think that I'm an egotistical bastard for "renaming cities in my image" and "inviting people to come worship me"... but the truth is exactly the opposite. I don't do this so people can meet me... I do it so that I can meet them...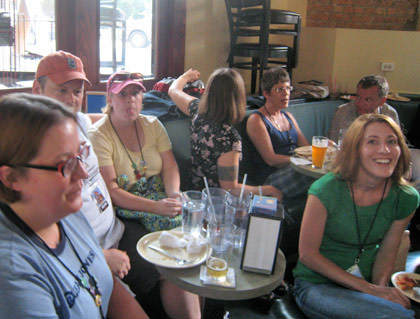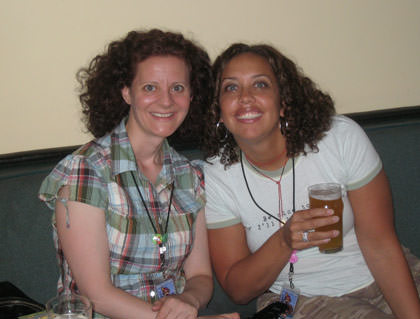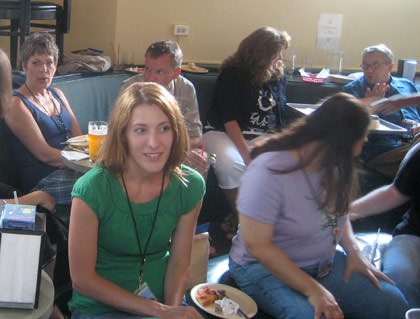 The fact that I am lucky enough that people even care enough about me to show up and say "hello" is just a bonus. If I am very lucky, I'll get to keep meeting up with fellow bloggers and blog readers for years to come.
Past and upcoming meet-ups can always be found on Blogography's Dave Events Page.
Oog... I really need to update my "Bloggers I've Met" list in my sidebar, but it's time for bed. I have a very long day ahead of me tomorrow...