This morning I saw that the "unofficial-official" update for iPhone 2.0 had been released. Not being the patient type, I went ahead and installed it.
It's pretty much everything I had hoped for... and more. Not so much for the basic functionality, which is largely unchanged, but for the stunning applications that are now available. Much like a drug habit, the ability to purchase games and other apps right on your iPhone is highly addictive. I've spent nearly $100 on loads of crap without even realizing it. And I can only imagine that even more amazing stuff is on the way, which is very bad news for my finances.
Here is just a sampling of some of the interesting stuff I got...
By far the best game I bought was Motion-X Poker Dice. It's so beautifully crafted that everybody I've shown it to wants an iPhone just to have it! You roll the dice by shaking your iPhone, at which point the dice click and clatter until you stop shaking. You have three rolls to get a better hand than the dealer. This would get boring kind of quickly, so there are unlock-able playing boards, dice sets, and prize gems for reaching certain goals. You can also just roll five dice to play games like Yatzee and Zilch on the go, which is a nice bonus. An instant classic I can't stop playing!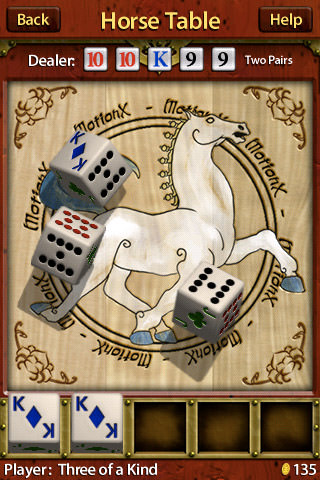 Another very, VERY interesting game is Trism, which uses all the amazing iPhone features at the same time to ensnare you in a puzzler that boggles the mind. I could post a screenshot, but to truly appreciate how cool it is, you need to actually SEE it in action...
On of the most beautiful games is Apple's Texas Hold'em, which utilizes video capture to create an immersive card-playing experience. Turn your iPhone 90-degrees, and you switch to an overview mode. Overall, the game is pretty darn sweet, but I sure wish it had more options (in single-player you always play against 8 computer opponents, which makes each hand a little longer than I'd like, and I wish I could change to less players). The most impressive aspect is that you can also play against REAL PEOPLE via wireless if they also have the game!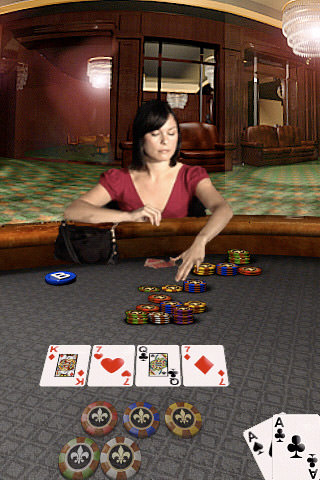 In addition to games, there are also some helpful utilities. The one I was most excited about was something called "Jade" which allows you to automatically enhance the murky, crappy photos that the built-in iPhone camera takes. It doesn't always work, but most of the time the app does improve your images by making them brighter. It seems to be a very handy thing to have, as you can see by the samples here...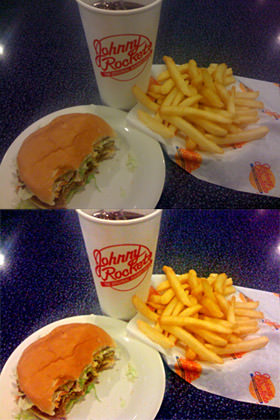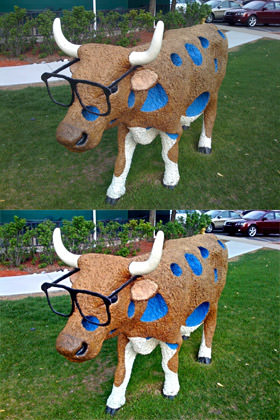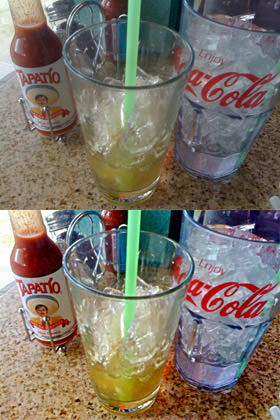 Cool huh? Well I thought so too... until I realized that every photo which Jade processes is reduced from 1600x1200 pixels to 640x480 pixels, which sucks ass! NOWHERE on the iTunes sales page does it tell you that Jade shrinks your photos, and that pisses me off. Why can't I keep the original size so I get the best image quality? Who knows. STUPID!
Anyway, I got a lot of other cool stuff, but you kind of get the idea here.
In summary, iPhone is a killer development platform for software. Sure not all the apps are as good as they could be, but I'm sure as time goes on and programmers get accustomed to the tools and what they can do, we'll see better and better stuff. It makes me love my iPhone even more than I already did, which is a LOT.
And then...
Tomorrow Apple released the new generation Apple iPhone 3G.
To be honest, I am not sure I want one. The only feature I covet on the latest model is built-in GPS. This was a horrible, glaring oversight from the first model that still gets my blood boiling. If my current iPhone had GPS... AS IT SHOULD HAVE IN THE FIRST PLACE!... there would be no reason for me to upgrade. Sure the 3G speeds of the internet access would be nice... but they are charging too much for it. I would be perfectly happy sticking with my 2.5G speed at the current rate plan if I could.
So will I buy one?
I don't know. Sure I'd like to have it, but the monthly increase on my wireless bill doesn't make me at all happy.
But it DOES have GPS, which I want pretty bad.
Decisions, decisions...