I had to change hotels.
Between the crazy bastards in neighboring rooms and the cigarette smoke that was pouring in non-stop, I didn't have much choice. I had been awake from 4:00am Pacific time Wednesday to 1:00pm Eastern time Thursday... 29 hours... and simply had to get some sleep. That was never going to happen at my first hotel, so I moved to a different one with a crowd that's a bit more reserved.
For the most part.
There are still people driving into the parking lot at 10:00pm with their country music blasting so loud that the windows are shaking... and a mother standing on the balcony screaming at her kids in the swimming pool... but now it's 11:00pm and everything is blissfully quiet (I can't even hear the forest of cicadas outside!).
But none of that is important right now.
What's important is how hot I don't look in glasses.
For comparison, let's start with a photo of me taken last week while I was iChatting with my friend Meagan as I got ready for work in the morning. You can break it down however you like but, damn, I am totally hot here...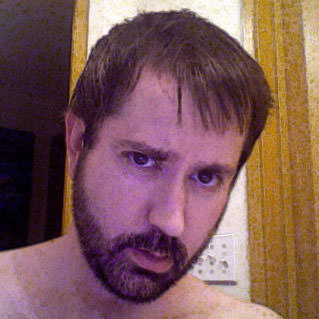 Which is not to say I always look fantastically hot. Unlike Sizzle, I do take bad pictures, and have a tendency to look constipated half the time. Especially when Meagan snaps me in mid-sentence...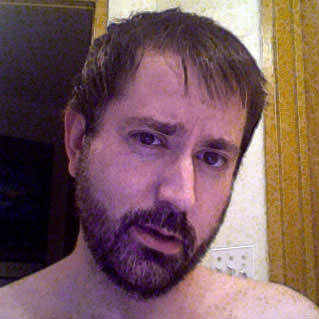 But whenever I put on a pair of glasses, my hotness evaporates. After 29 hours in contact lenses, I decided to give my eyes a rest, and was horrified when I caught a glimpse of myself in the mirror...
Not only do I look eerily un-hot, I give off kind of a sexual predator vibe.
At work today, I had to wear protective glasses, and didn't fare any better. I look like a homicidal maniac...
Most people look kind of hot-cool in sunglasses. I don't. I look kind of pervy-scary...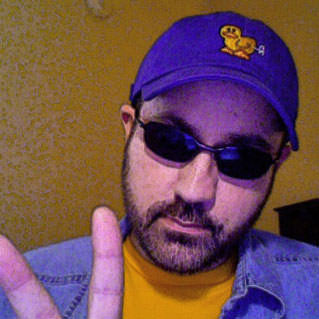 Last night I thought my glasses curse had finally been broken.
I went to the local SUPER WAL-MART to get a replacement charger for my iPhone (mine got busted in my suitcase) and saw a massive display for Hannah Montana school supplies that included a FREE pair of Hannah Montana 3-D glasses for the upcoming broadcast of her "Best of Both Worlds Tour" movie. Thinking I had finally found glasses that wouldn't destroy my hotness, I grabbed a pair...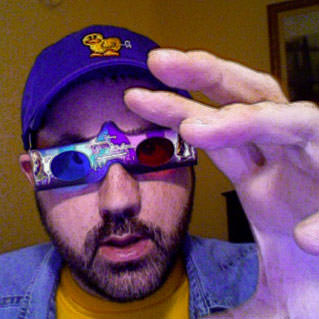 Not bad. Not bad at all.
And I must say that the world is looking quite a bit better when seen through Hannah Montana glasses.
Which is why I wish I had them when I was on my way back from work today.
I was driving by a pasture where some cows were shading themselves under some trees. Thinking I could use a mental break, I decided to stop for a minute. You have a whole different appreciation for cows when you don't see them as food, and I find them to be gentle, soulful animals that are fun to be around.
But as I walked up to the fence, the cows were indifferent to me. One cow even turned away from me... kind of a bovine snub, if you will. I was okay with it because I was wearing my pervy-scary sunglasses and could hardly blame the cow for not wanting to look at me, but it didn't end there.
That's when the cow lifted its tail and proceeded to dump ten gallons of urine in my direction.
What a bitch!
I didn't get peed on, but it sure put a damper on my wanting to commune with nature today.
It also made me hungry for a steak for some reason.
Tomorrow I get to head back to the big city of Atlanta where, hopefully, I'll have better email access so I can get caught up on work back home. My new hotel doesn't allow you to send email (some kind of anti-spammer effort?) and webmail seems to be broken.
Unfortunately, my Hannah Montana glasses have been no help at all.
But I am looking 3-D hot, and that's something.