I just got an e-mail from somebody who noticed that my cartoon persona looks a little different in last night's entry. Yeah, and it's all Meagan's fault! This coming weekend I have to get my picture taken for a benefit I am involved in... I am not a big fan of being photographed, and mentioned to Meagan during an iChat that I'd have to get over being lazy and show up clean-shaven for the shoot. Bummer.
About an hour later, I got an e-mail where Meagan had doctored photos of me with variations of mustaches, beards, and other craziness (I look great as Hitler!) and said I should be a little creative before wiping the slate clean (and by "slate" I can only assume she had meant my face). Naturally, I said "no way," because that's more maintenance than I feel like taking on each morning, but then she laid on the guilt about having spent an hour on the photos and said it would only be for a week anyway.
Argh! Women can pretty much talk me into anything...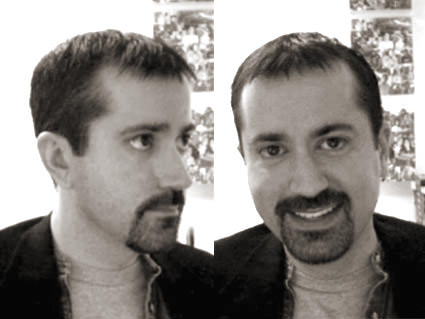 Enabler! Just because women have hot bodies brilliant minds, you think that men will do anything you want!!
You're right, of course.