After a relatively uneventful trip, here I am in rural Georgia!
The great thing about being here is that the people are so incredibly nice. I had dinner at a Taco Bell and felt like I had acquired a new family. I shopped at the Piggly Wiggly and found a new best friend. I checked into my hotel and it was like being a guest at somebody's home.*
Everywhere I go, people are wicked-friendly, like being sweet to total strangers is built into their DNA.
Work runs all hours of the day and night, which is a bummer, but I'm used to it.
Tonight at the "magic hour" I was blessed with a fantastic sight... a flawless sunset and moon rise at exact opposite horizons. You look one direction and there's the sun glowing blood-orange across a painted sky...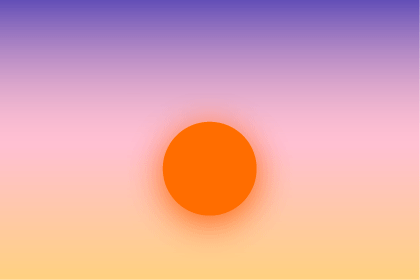 You look 180-degrees opposite, and there's the full moon glowing softly above the horizon...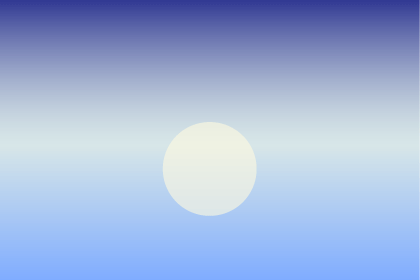 Sweet!
After the sun has totally set, the back-roads I drive back and forth remind me of that old Atari 2600 video game, Night Driver. I totally sucked at that game, and crashed ten times a minute, but loved it anyway. Fortunately, I have better luck in a real car on real roads. Probably because I don't have bricks of crap being thrown at me every two seconds...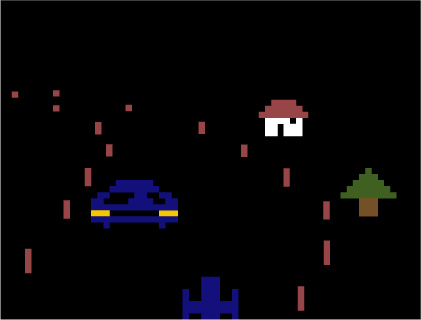 NOTE: In the real game you would never have a car, tree, and house showing at the same time...
that would cause your Atari 2600 graphics chip to explode and your console to melt.
Alrighty then... back to work. And maybe a can of Red Bull.
* If that somebody's home was filled with thirty people all running around screaming and yelling day and night while each smoked a pack of cigarettes every hour.
My "non-smoking" room is directly above a smoking room, which means that the smoke drifts up and makes my room smell like cigarettes and burning hair. As if that weren't bad enough, my room is at the end of a cull-de-sac where everybody who got a non-smoking rooms likes to hang out and blaze up, thus filling my room with more cigarette smoke. Add to that the running, yelling, screaming, and singing at 1:30am, and it's my best hotel experience ever!
I guess it's a good thing I'm working and won't get to sleep anyways.
Though I'm thinking I'll be needing a nicotine patch when I check out.