Ummm... yeah... the idea I had for today's entry is going to have to wait. It's been a heck of a day.
This morning I awoke to that all-to-familiar feeling of a pending Angioedema attack. This time in my tongue again. It was that itchy-stabbing sensation that tells me I need to immediately consume massive quantities of Benadryl.
Fortunately, Benadryl will reverse the swelling before it gets too bad.
Unfortunately, Benadryl is like a sedative and makes you sleepy.
But the horror didn't end there. I've apparently gotten a bad batch of disposable contact lenses, because pair after pair I stuck in my eyes felt like sandpaper.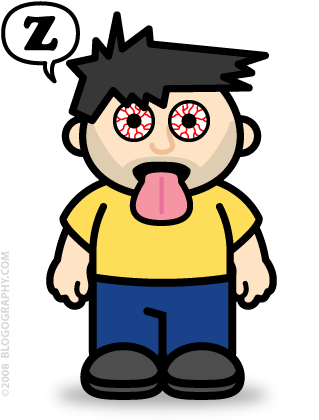 So there I was at work, falling asleep at my desk with a swollen tongue and agonizing eyeballs, when the trifecta of evil descended on my morning. MIGRAINE HEADACHE!!
Needless to say, it was not a very productive day.
But I'm feeling better now. The swelling has gone... I'm wearing glasses so my eyes are feeling better... and I took Special Pills so I've downgraded from migraine to headache.
Unfortunately, missing a day of work means that I'll be working all weekend trying to get caught up.
Unless, of course, my appendix decides to explode in the middle of the night.
It could happen.