Free at last.
This morning at 9:47am, after a week of agony and discomfort, my kidney stone finally decided to exit the building. And by "building" I mean "me." I had a feeling things were coming to an end yesterday because things started feeling different in my internals, but it wasn't until the pain subsided and was replaced with burning discomfort that I knew for certain. My guess is that appearing on The Jester Show last night scared the stone out of me, but it was more likely due to the massive quantities of water I drank afterwards.
The hospital scan revealed that the stone was only 4mm, but it might as well have been 4-inches for all the trauma it caused me. Surprisingly, as I stood there gazing at the instrument of my destruction in the toilet, I marveled at how innocent it looked. Like a little pebble that might get stuck in your shoe or something. And by "shoe" I mean "penis."
Though I'm sure if you looked at it under a microscope, it would be a different story. I've taken to calling my kidney stone "Mr. Sharpie" because it's the only explanation for how unbelievably fucking painful it's been...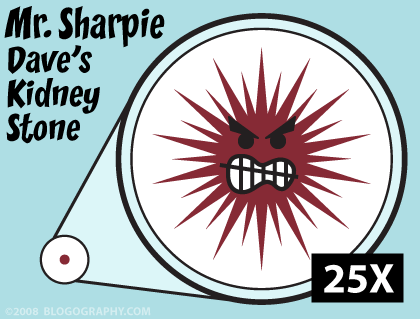 Please note that Mr. Sharpie is no relation to Sharpie Brand Markers, ©Sanford, A Newell Rubbermaid Company
I really don't want to be sued over this shit.
Oh well. It's all over now. After having gone through this crap twice, I've decided that I'm drinking fifty glasses of water each day to flush this stuff out before it has a chance to accumulate into SPIKEY BALLS OF EXTREME PAIN!!
In other news, the movie trailer for Battle In Seattle has been released over at MovieSet.
It looks like complete and total shit.
I don't know why they'd make a movie over a frickin' protest, but here you have it. While the event was very real, I have no idea if the drama they've added to the film is based on real stories or not. From the over-clocked intensity of the scenes in the trailer, I'm guessing it's mostly speculation and fiction, but who knows?
In any event, I have no plans for seeing it. I was in Seattle working on November 30th, 1999... and blissfully unaware of everything that was going on. I was a dozen blocks away and cut off from news sources when things started up, and had no idea how intense things were getting until I went back downtown to my hotel later in the day. Fortunately, my hotel was on the edge of the riots, but I could still look out my window and catch a glimpse of the crazy stuff happening just a couple blocks away. Part of me wanted to go check it out, but after watching TV news I decided to stay in my room (which was largely tear-gas free!) and eat a bag of potato chips and a Coke for dinner.
But my true memories of the WTO protest riots were formed the next two days while walking through the streets of downtown Seattle. The spray-painted buildings and smashed windows provided a vivid picture of just how fucked-up some people can get. I'm all for protest, but using violence to promote your cause doesn't do anything but make you look like a douchebag. I'd like to believe that the vast majority of the people who showed up were there for peaceful protest (even if most of them probably didn't even understand what they were protesting), but the fact that nothing was done to stop the violence has me blaming the protestors as much as I blame the Seattle Police for being so grossly unprepared.
Ugh.
Now that I'm back to normal, I suppose I should get back to reality.
For once I'm actually happy about that.