Thanks to everybody who has been leaving comments and sending me e-cards while I've been sick. It's nice to be so beloved by the blogosphere.
Well, maybe not "beloved," but at least "well-liked."
Anyway... for everybody who tuned into The Jester Show expecting to hear me there last Wednesday, I'm sorry you only got ten minutes of Dave-time. I had to be rushed to the hospital so I could scream and cry in a room full of complete strangers. Which, when you think about it, is a lot like appearing on The Jester Show... except Jester isn't there and nobody is recording it.
Well, now that I have a big bag full of pain-killing drugs to keep me somewhat sane, Jester has kindly agreed to have me on again tonight. If you don't mind all kinds of not-appropriate-for-children talk, I invite you to join me at The Jester Show tonight at 7:00pm Pacific, 10:00pm Eastern on BlogTalk Radio...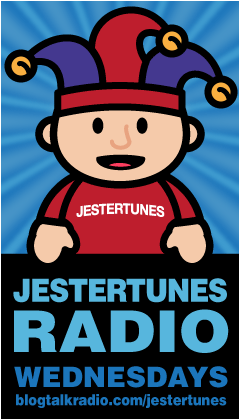 When you combine my 20% gay fierceness with Jester's 100% gay fierceness, that's 120% gay fierceness all in one radio show, which just might exceed the BlogTalk Radio standards for overall gay fierceness...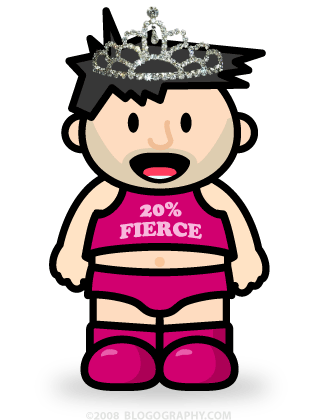 For more about my appearance on The Jester Show, you can read my Blogography entry from last week.
And now, if you'll excuse me, there's a bottle of pills calling my name.
Errr...
But while I am still in a pain-induced cranky mood, is it just me... or is this the stupidest fucking BlogHer Conference ad ever...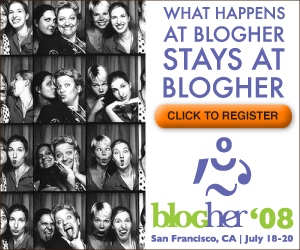 "What happens at BlogHer stays at Blogher?"
Oh really?
Bull-fucking-shit.
What happens at BlogHer will be written about in no less than 1000 blogs ("OH MY GAWD... DOOCE IS HERE!!!"). Every tiny possible BlogHer detail will be posted on Twitter ("OH MY GAWD... I JUST SAW DOOCE!!!"). Flickr will be busting at the seams with BlogHer photos ("OH MY GAWD... HERE'S A PHOTO OF DOOCE WALKING INTO THE BATHROOM!!!). There will be BlogHer podcasts ("OH MY GAWD... IF YOU LISTEN CAREFULLY, YOU CAN HEAR DOOCE DROPPING A DUECE!!!"). YouTube will be overrun with BlogHer video ("OH MY GAWD... HERE WE ARE CHASING DOOCE IN THE PARKING LOT!!!"). For three days in July, I can assure you that the shit happening at BlogHer is not going to be staying at BlogHer, it's going to be posted to the internet in every conceivable way.
Which is kind of the point, isn't it?
But I guess if BlogHer wants to trot out that tired old "What happens in Vegas, stays in Vegas" rhetoric (which would have been somewhat excusable if the conference actually took place in Vegas instead of San Francisco), then more power to them. Perhaps enticing ladies to attend by making them think they're going to have some dirty little weekend away from the husband/kids/whatever is how they sell tickets. I just find it sad that a network built to empower women on the internet has to resort to such an obvious sexist cliche as "girls weekend away."