It was only a matter of time...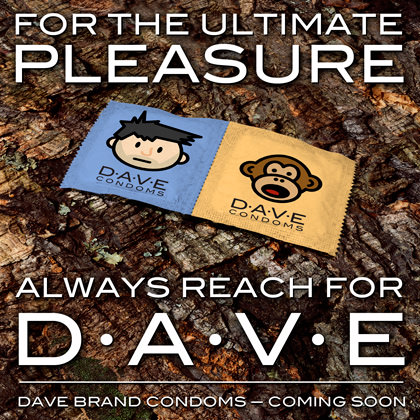 For far too long I've been dissatisfied with the condoms available on the market. So many different brands, styles, colors, and flavors... yet none of them get it right.
Until now.
Because I've decided to create my own condom.
D•A•V•E Condoms™ are for the discriminating gentleman who sees advertisements for other brands saying "FOR HER PLEASURE" and thinks What about ME?
Well I hear that.
Here at D•A•V•E Condoms™, we've used cutting-edge technology to build propolactics that will not only thrill the ladies with their exclusive DAVE-WAVE™ ribbing and chocolate pudding scent, but will also provide hours of pleasure for the fellas thanks to our DAVE-RAVE™ bio-electric warming gel.
When released this June, everyone will finally be able to experience the ultimate pleasure that only D•A•V•E can provide. So when you think of sex... think of me! Think of D•A•V•E Condoms™