Hmmm... I almost forgot that I have to be in Salt Lake City this weekend. I was able to change my plans to fly out Saturday instead of Sunday so I can have dinner with fellow blogger (and frequent Blogography commenter) ChillyWilly that night. If anybody in the area wants to join us, we'll probably eat at The Gateway or nearby restaurant around 5:30-6:00. My address is in the sidebar over there, so send me an email for details if you're interested.
For some reason I am having a really hard time readjusting to life after vacation. It's not that I'm unproductive or can't get back to Real Life... on the contrary, I'm tearing through my work like I'm on fire. It's just that I've got this strange displaced feeling I cannot shake. It's like I'm still on vacation and not really back home at all... any minutes now I'm expecting to wake up from this bizarre dream...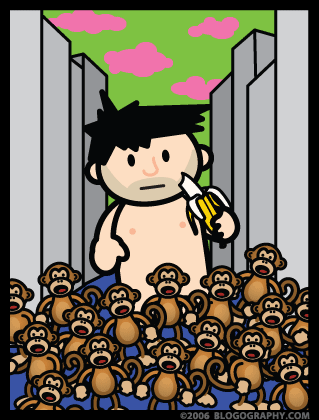 What I really need is a nice bitch-slapping to snap me out of this.
Or a billion dollars.
Because with a billion dollars I would never stop being on vacation, so there would never be a need to come back to reality.
Personal checks accepted.