Winner, winner, chicken dinner!
Still working on the Artificial Duck Co. Store. I've got one more page to build and test before I can go online... probably tomorrow morning (this stuff is complicated!). The good news is that enough people expressed interest in the Blogography Playing Cards that I doubled my order and got some pretty sweet pricing. Hopefully a lot of people will want to buy them or else I'm going to be sitting on a LOT of cards for a very long time.
In other news... SHIRTS, BITCH!!
The winner (by quite a large margin) was MONKEY BUTTON!!!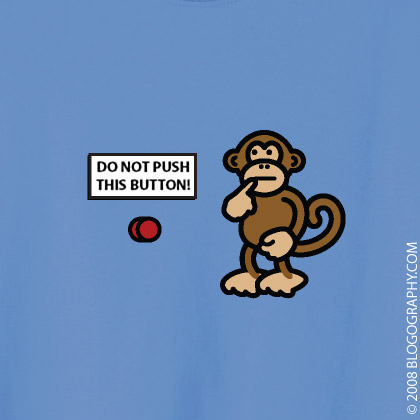 The runner-up (in a much closer race) was BAD MONKEY GYM!!!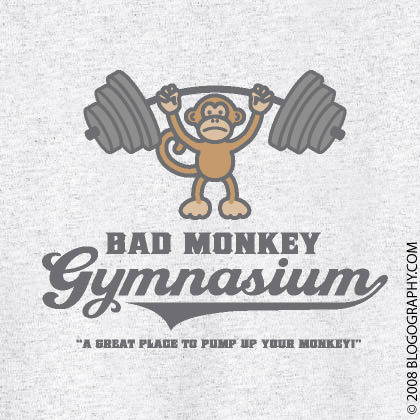 I will be printing both of them. The "Classic T-Shirts" will be kept in-stock. "Ladies Shirts" will be printed only to cover pre-orders, but not kept in stock. This is because they just don't seem to sell over the long-haul. I get a good enough initial order, but the rest of them just sit on the shelf.
In other good news, I've decided to re-stock ZOMBIES ATE MY BRAIN!!!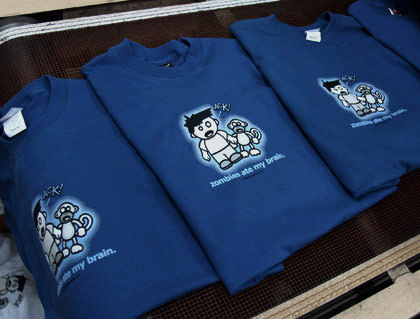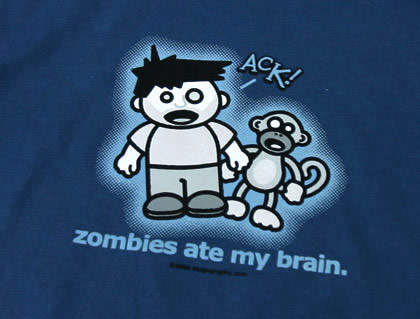 Entirely too many people keep asking me when I'm going to get these back in stock, so I've decided to order them with my next print run. I guess it just goes to show... everybody loves zombies!
The problem here is that I don't have enough space to store all these shirts.
So I'm going to put some of the older inventory shirts on close-out at ridiculous prices... $5 for "Classic Shirts" and $4 for "Ladies Shirts" while supplies last. Sure I'm going to lose money, but think of all the closet space I'll free up!
New designs will be on half-price pre-order pricing of $8.50 each (regular $17.00). That's to thank everybody for voting... and also apologize for having to wait until June for shipment.
But there is one small problem.
Usually I do not charge for an order until I ship it. The problem is that Yahoo! (the company who runs my shopping cart) deletes all credit card information after two weeks. If I were to wait until I ship in June, I wouldn't be able to collect the money. So, unfortunately, I'm put in the position of having to charge immediately for all the pre-orders. Hopefully this won't upset people too badly, but I don't really have any other choice.
And there you have it.
Totally sweet, awesome quality stuff at insanely low prices. Could you ask for anything more?
I love my readers entirely too much.