Today was a wacky day of catching up on work and trying to arrange travel plans for another three trips I've got coming up.
And looking over Apple's FREE iPhone Software Development Kit (or SDK) which was released this morning. If you're not a programmer, it can be somewhat technical and boring, but you can watch His Holiness Steve Jobs describe what's going on via QuickTime here (the demo hotness starts just over half-way through). Suffice to say... I am completely blown away. I simply did not anticipate that the SDK would be so refined, polished, and powerful. Developers are going to be FLOCKING to the iPhone, which means iPhone users are in for some incredibly cool stuff come June when the 2.0 software upgrade drops. I have some concerns about required distribution through the iTunes Music Store (though if you give your stuff away for free, there's no charge once you've paid the $99 developer fee), but overall I am very, very excited. iPhone is going to OWN the mobile market... sweet!
Anyway, somewhere along the day, I was asked to make a fake "tabloid magazine" prop for a play that's being put on at the High School. It's fun doing wacky stuff like this from time to time...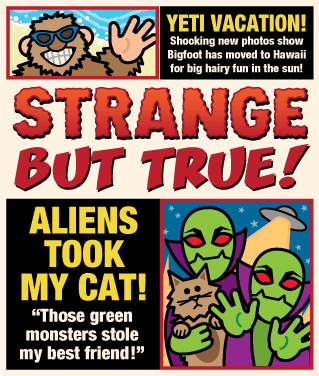 I would so totally buy this!
And now for another installment of Response to Hate-Mail...
Dear Dumbass,
Thank you for your wonderful email chastising me for "showing disrespect to The Queen of England" (from this entry, I'm guessing). A few points... #1: Her Majesty is not the "Queen of England," but instead constitutional monarch (The Queen) of the United Kingdom of Great Britain & Northern Ireland, and Head of the Commonwealth. There hasn't been a "Queen of England" since 1603. Since your IP address is actually located in England, I can only express my sadness that your educational system is apparently as bad as ours here in the USA. #2: I have nothing but the upmost respect for Her Majesty, and wouldn't dream of showing her any disrespect. If wanting to be her friend is disrespectful, then this world is in deeper trouble than I thought. #3: I've read a couple biographies of The Queen, and actually admire Her Majesty for taking on a job she never asked for and performing it to the best of her abilities. Her Majesty has led an exemplary life in service, has done so with dignity and devotion to her people, and deserves nothing but respect for it. I know I'll demand nothing less when I'm king of the world, so fuck you for implying I feel otherwise...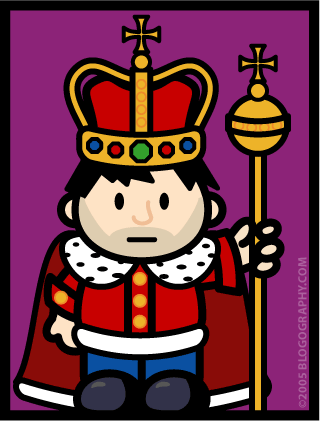 Good night... I love you my Apple iPhone!