I don't even want to think about how much money I spent today.
And all I really bought was postcards, guidebooks, pamphlets, and such. But when a postcard can cost as much as $3.00, it all adds up very quickly. Karla warned me again and again not to try to translate Norwegian Kroner into U.S. Dollars or else I'd have a total breakdown, but it's kind of hard not to. When I'd buy a tiny little stack of souvenirs and the total comes to 250 Kroner, my mind is instantly converting that to $50 then deflating in my skull. Oh well... there's always bankruptcy.
Since most museums are still running on winter hours, there is very limited available time to see everything I'd like to. But I did pretty good, managing to see nine museums in ten hours...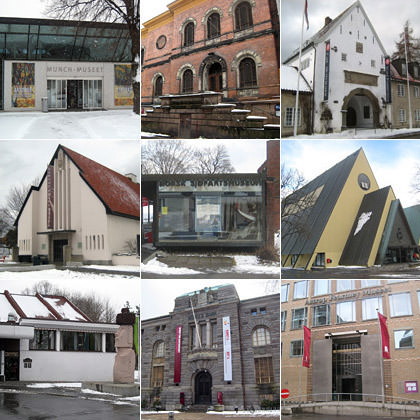 Which was not easy. But Karla had given me a map and some advice, so thanks to trams, busses, subways, and a lot of walking, I managed just fine with some careful planning...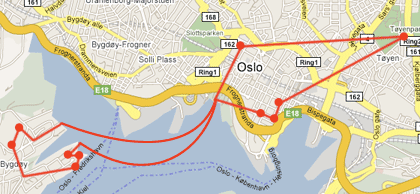 Munch-Museet (Munch Museum). Brilliant impressionist artist Edvard Munch is easily one of Norway's most famous artists, so visiting his museum was a no-brainer. It's small, but the collection is quite good. Oddly enough, Munch's most famous painting, The Scream, is not here.
Nasjonalgalleriet (The National Gallery). Munch's The Scream IS at The National Gallery, however... along with an astounding collection of other works. I limited my time here to an hour, but could have easily spent half my day in awe of the treasures here. Features a good number of scenic works from this beautiful country.
Bygdøy. On my first day here, Karla gave me a walking tour, and highly recommended a trip to Bygdøy because of the excellent museums there. I opted to take a boat trip, which affords excellent views of the city as you head out...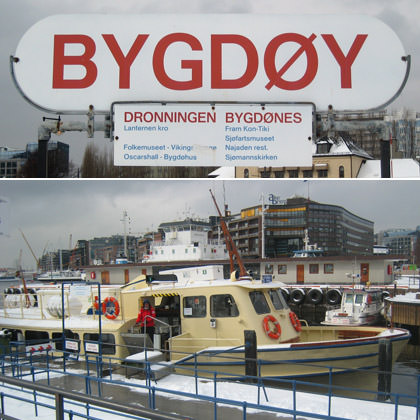 Here is where I got a lot of walking in because I didn't have time to waste waiting on buses. As I was heading inland to my first Bygdøy museum, I was surprised to see the Apple Macintosh Command Key logo on a sign along the way...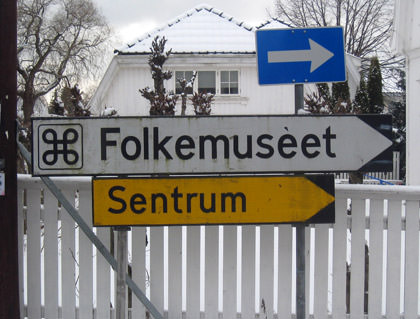 Sure enough, a search at Wikipedia turns up that Apple Designer Susan Kare did indeed take the logo from a symbol she found on Scandinavian maps denoting "a place of cultural interest." You learn something new every day!
Norsk Folkemuseet (Norwegian Folk Museum). This museum was a total surprise. I was expecting to come here and find a collection of Norwegian folk arts, and indeed they have them. Lots of them. Like this stunning detail from an embroidered vest...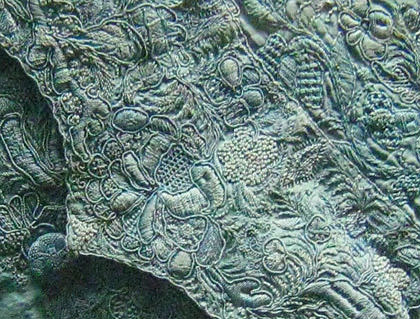 What I was not expecting was the 155 historic buildings which have been gathered here in a massive outdoor walking museum. It's a fascinating collection, and includes a 13th century stave church in pristine condition...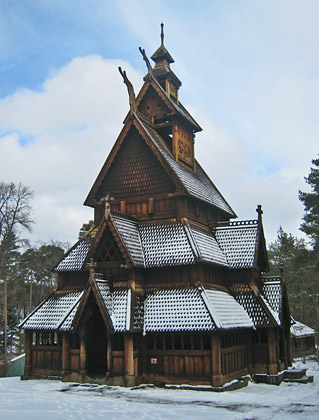 Absolutely magnificent, and I believe it was the inspiration for the church reproduction that can be found in the Norway Pavilion of Epcot's "World Showcase" at Walt Disney World (which I blogged about here). The only downside to this museum was that the trails are covered with compact snow over gravel, leaves, and dirt, making for VERY scary climbs up and down hills. I nearly fell and cracked my ass on more than a couple occasions. Still, it was well worth the risk, and I really wish I could have had more time here.
UPDATE: In going through my photos, I found a different angle which confirms that this is indeed the church that Disney used to model their version. It's the exact same except that they've stripped off the crosses. This is odd when you consider that Disney still calls it "Stave Church," but I guess they're trying to be all PC and stuff. Kind of lame, really, you'd EXPECT a church to have crosses...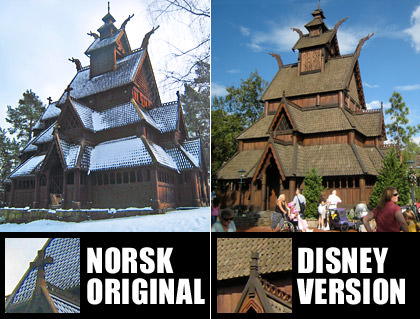 Vikingskipshuset (Viking Ships Museum). Contains three of the best-preserved viking ships in existence and other Viking treasures. A very nice museum that seems almost impossible when you consider how old these ships are...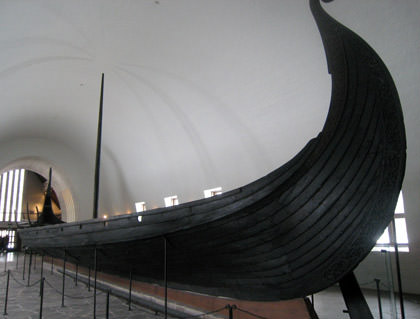 Norsk Sjøfartsmuseum (Norway Maritime Museum). Consisting mostly of detailed scale models of various ships throughout Norway's extensive history with navigating the world's seas, this museum wasn't really my cup of tea. I did enjoy the 20-minute "panorama movie" showcasing dozens of Norwegian coastal cities I'd love to visit. So many beautiful little fishing villages built on a scattering of rocky ocean outcroppings... you could spend a lifetime exploring them all.
Frammuseet (The Fram Museum). The "Fram" is a world-famous ship which made many inspirational expeditions... the most renowned being the journey where Roald Amundsen became the first to reach the South Pole in 1911. I had thought the building would just have a bunch of artifacts and information about the ship's history, so you can imagine my surprise when I walked in the door and found THE ENTIRE FRICKIN' SHIP ENCLOSED IN THE BUILDING...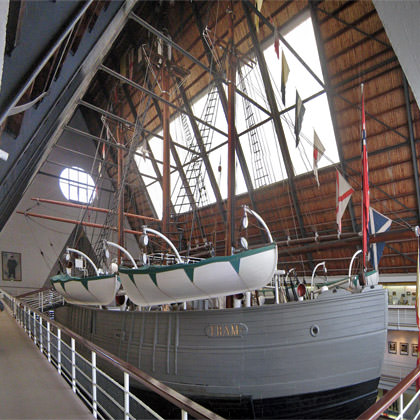 Amazing. This was easily my favorite museum of the day, and totally worth a trip to Norway to visit. Not only can you explore hundreds of artifacts from the ship, but you can actually walk onboard and look around inside it. Sweet! The thing is massive, and no photo can really put it into scale. Though I did try...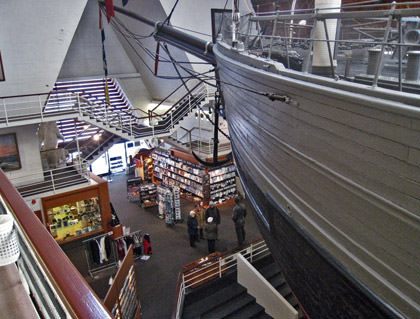 Kon-Tiki Museet (The Kon-Tiki Museum). This museum contains the famous boat constructed by Norwegian ethnologist Thor Heyerdahl who wanted to prove that people from South America could have settled the Polynesian Islands. Using only ancient tools available at the time, Heyerdahl created the Kon-Tiki and sailed it 4,300 miles over a 101 day period back in 1947. You can read more about the fascinating voyage here...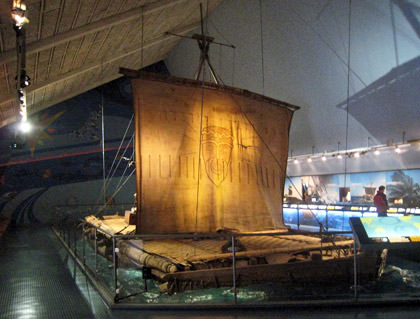 Museet for Samtidskunst (Norwegian Contemporary Arts Museum). I am not a big fan of "modern art" so this museum already had a strike against it. But things went from bad to worse when I went inside and discovered almost all of the museum areas were closed. I understand that winter is the slow season and the best time to change out exhibits, but this was ridiculous and they shouldn't even have bothered to keep it open.
Astrup Fearnley Museet for Moderne Kunst (Astrup Fearnley Museum for Modern Art). This museum became famous after purchasing Jeff Koons "Michael Jackson and Bubbles." I'm guessing there must be multiple copies, because I'm certain I've seen it before. Or maybe it gets moved around, I don't know...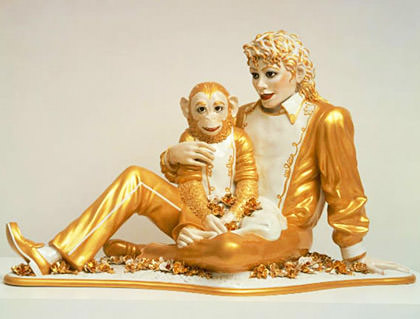 In any event, I went to the museum expecting to see it there. What I was not expecting to see was another Koons creation hanging to the left of it called "Blow Job-Ice." Apparently this is one in a series of hard-core pornographic works showing Koons having all kinds of sex with his porn-star ex-wife Ilona (you can see them here, but this link is obviously Not Safe For Work). Frightening.
And that's all the museums I had time for today before everything started closing. Hopefully I'll have time to do more exploring when I'm back Friday.
After all that I went to the grocery store. If you want to take a look at what I found there, I've put it in an extended entry...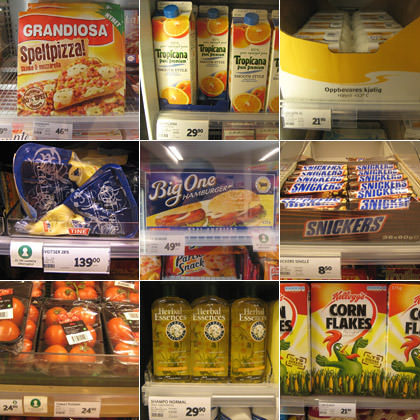 As I had guessed, there's a lot of really pricey groceries to be had in Oslo. Though, for some reason, I actually think that the Corn Flakes are cheaper than they are back home. Odd...
Frozen Pizza: $9.25
Small Carton of Orange Juice: $5.85
Carton of Six Eggs: $4.30
Wedge of Premium Cheese: $27.25
Box of American-Style Frozen Burger Patties: $9.75
Snickers Bar: $1.70
Six Small Tomatoes: $4.90
Herbal Essence Shampoo: $5.85
Box of Corn Flakes: $4.70
Karla has already blogged about the wacky names they give toilet paper here, but they're totally amusing and bear repeating...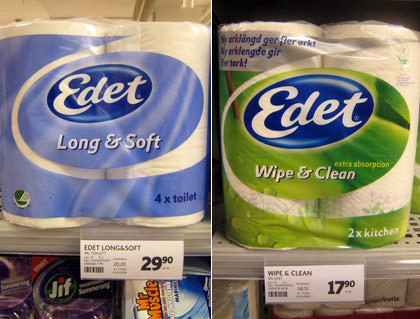 These packages are quite a bit cheaper at the grocery store than the $4.50 single rolls I found yesterday. Interesting how going "Long and Soft" costs you $5.80, whereas "Wipe and Clean" is just $3.50... you'd think it would be the other way around, judging from the sound of things. When I wipe my ass, I want it to be as clean as possible... apparently Norwegians have different priorities.
UPDATE: Ah! As "SeaSlug" points out, the "Wipe and Clean" are actually paper towels... I hadn't noticed. This is even more vexing, because I think it makes a better name for toilet paper!
Once I had done some comparison shopping, I grabbed a bag of SMASH! candies, which Karla had recommended I try. They're Bugles Corn Chips drenched in creamy milk chocolate. Of course, now I am totally addicted. EVIL KARLA! EVIL!!!
Alrighty then... since it's almost midnight and I have to get up in 5-1/2 hours to catch a train, I suppose I'd better call it a day.
My vacation is passing waaaaayyy too quickly...