Another Bullet Sunday is upon us, but I'm not ready for the weekend to be over!
• Organizational... This past week Suzy asked me if I still had a souvenir I bought from when we were goofing around in L.A. back in September. I knew I hadn't thrown it away, but couldn't find it. Probably because whenever I get back from a trip, I toss all my souvenirs and crap into one of ten big cardboard boxes I've got piled on top of my shelving units. Disgusted with my lack of organization, I decided to sit down with one box a week until I've organized all my travel stuff. It's hard work, but every once in a while I see something from my past that makes me smile, and that makes it all worthwhile...

I wonder how many people know you could once smoke on a plane?
• Time Capsule... Cannot express in mere words how happy I am with my new Apple Time Capsule. Using the built-in wireless connection, it took 22 hours to back up the 142 GB on my laptop. That was a bit harsh, but the incremental updates every hour are very fast. It's constant, unobtrusive, transparent backup that works beautifully. I've lost count of the times that Time Machine has saved my ass both at work and at home. Just one of the hundreds of reasons I'm such an Apple whore.
• Album... 2008 promises to be a very good year for the 80's music that I love. It has been rumored since January that Depeche Mode would start work on their new album this month for release in November (with a tour hopefully following in early 2009). Morten Harket (of a-ha fame) is releasing an English-language album this month in Norway, which will hopefully be available when I'm there next week. The Pet Shop Boys are meeting with producers this month for their upcoming album. Bananarama is gathering material for their next album. Erasure is also rumored to be working on a new pop album very soon now. I have high hopes that New Order will get together this year. Still no word on a Thompson Twins reunion, but I remain optimistic that one day it will happen.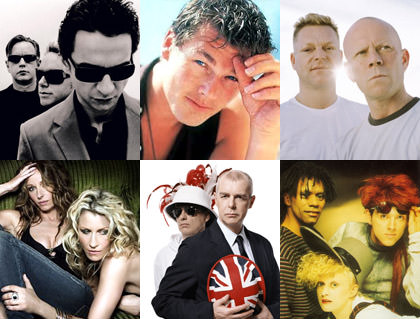 • WWZ... Many thanks to Vahid and Dustin for a brilliant recommendation... World War Z: An Oral History of the Zombie War. Totally awesome book! Now I want the audiobook, because Dustin says the recording has Henry Rollins in it and totally kicks ass! They have it at iTunes, but it costs $18.95! I think I'll see if the library has it to borrow first...
Because me loves the zombies...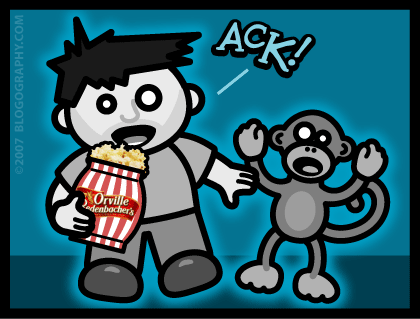 And popcorn. Can't have zombies without popcorn!
Speaking of zombies... it's time for me to get back to work.