As a certified pack-rat, I've kept every cable from every piece of electronics I've ever owned. Even those I got rid of years ago. This has resulted in my having a closet with four large boxes of wire crap that just takes up valuable space. Today I finally decided to sort through everything in an attempt to simplify my life.
And make room for my Batman Legos.
It took three hours. THREE HOURS!! Because, of course, they were all tangled up. Wires tend to do that for some reason...
Then I decided to go through all my laserdiscs and videotapes to see if there was enough material to justify ordering a video capture card for my Mac. Turns out there is. So I did. This way I can digitize all my stuff and toss out my old video equipment.
More room for Legos!
What convinced me to take the plunge was my Hi-8 video tapes of two of my favorite shows.
First there is Rob Thomas' masterpiece... Jeremy Piven's Cupid (which is going to be a remake that has disaster written all over it)...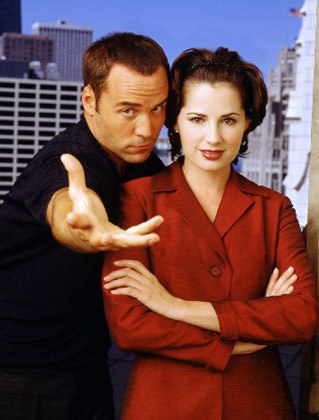 And then there's Alan Ball's masterpiece... Oh Grow Up! He created this hysterical show before his American Beauty and Six Feet Under became famous. It was sadly overlooked, and quickly canceled...
Almost as cool as the shows themselves are the commercials between the shows. In watching a few tapes I got to see the first iMac and iTunes commercials. Oh! And an anti-drug commercial from President Clinton!
It sure will be cool to be able to have all these old shows on my Mac.
And some space for my Legos.