Bullet Sunday already? Where did that weekend go?
• Radio. Today at 4:00pm Pacific (7:00pm Eastern) I will be a guest host on BlogTalk Radio for the incomparable Mr. Fab's Pointless Drivel LIVE show! Heaven only knows what we'll talk about, but it's sure to be a lot of fun! To listen in, just point your web browser here and you're good to go! Once the show begins you'll be able to view a live chat with other listeners but, to join-in the chat yourself, you'll need to pre-register for an account (it's free!). Please note that the show is usually NSFW and probably not appropriate for children, small animals, The Radical Christian Right, or those not possessing a sense of humor...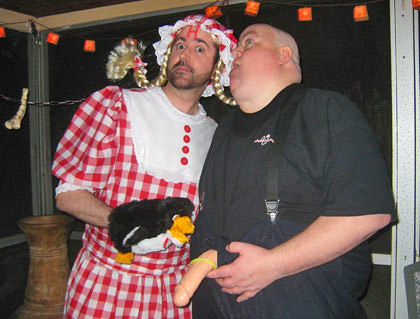 • Talk. While I'm talking up the big fun that's BlogTalk Radio, I would be remiss to mention that half the blogosphere has radio shows there on Sunday. It starts off with Karl from Secondhand Triptophan at 2:00pm (that's Pacific Time), followed by Hilly-Sue from Snackie's World at 3:00pm, Fab at 4:00pm, Turnbaby from And The World Turns at 5:00pm, and Kyra from The Kyra Sutra at 6:00pm! Quite a line-up! Usually Sundays are travel days for me and I miss the shows, then have to listen to the archives. But today I'm excited because I'll be able to listen to everybody LIVE! Though I have to say that I'm feeling a bit left out that I don't have a radio show of my own. Maybe I'll just beg everybody to guest-star on their show and it will be almost the same? Probably not, but I guess I'll find out.
• Misrepresented. While State Legislator Sally Kern (Oklahoma House of Representatives) was making disgusting homophobic remarks to a small group of people, somebody recorded her dumbass ramblings and posted them on the internets. Now the dumbass bigot is having to deal with the fallout of being a "representative" who is very selective about which of her constituates she "represents" (gays need not apply!). After listening to her bullshit, I came away with a sense that she doth protest too much. What is she compensating for I wondered? And then it hit me... she's not afraid of the "gay agenda" she's afraid of being exposed! A classic case of denial...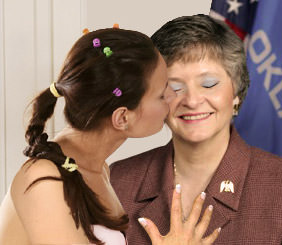 • Lesbionic. I suppose I shouldn't be too hard on Representative Kern... but I'm lashing out from fear. Fear that she and her homophobic nut-job comrades might actually be able to make good on their Nazi-esque fantasies of cleansing the nation of homosexuals. A nightmare! WHAT WILL HAPPEN TO LESBIAN PORN?!? Because right now I'm trying to decide which video I need most, and that's a struggle I'm not wanting to give up...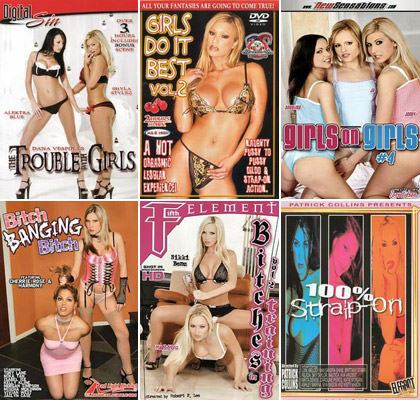 I'm leaning towards "The Trouble with Girls" because it sounds naughty! But then I see "Girls Do It Best: Volume 2" and think perhaps that's the way to go... obviously these babes are really good at making lesbian porn if they've got a SEQUEL going on! Except further down the shelf there's "Girls on Girls: VOLUME FOUR" yes, VOLUME FOUR, which sounds great, yet I can't help but wonder if they're just running the series into the ground like the Star Wars prequels did? But then... THEN... I spot "Bitch Banging Bitch" and think this video must be the one to beat... it's got bitches in it! And they appear to be experienced bitches, unlike the amateurs to be found in "Bitches in Training." And there's always "100% Strap-On," which could be interesting and educational... or just very, very scary. What's a boy to do? Well, if people like Sally Kern get their way, there won't be anything TO do. The lesbian porn industry will be shut down. THIS is AMERICA?!? Nay, I say! Hmmm... I wonder where Obama stands on lesbian porn?
• Trek I have been really enjoying the new remastered versions of Star Trek lately. It's amazing how a fresh batch of special effects can totally refresh the show. It's just as relevant today as it ever was, and looks absolutely beautiful. ..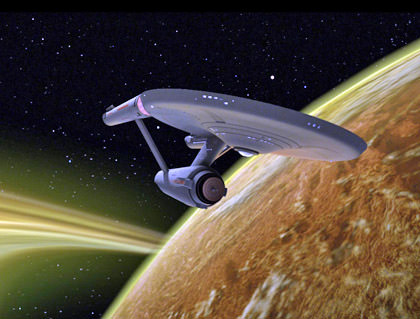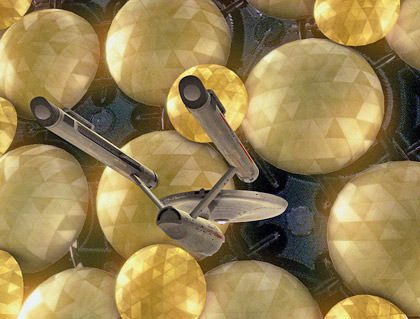 More gorgeous images can be found here, and where you can watch the remastered episodes can be found here. If all else fails, and you're wanting to know what the fuss is about, you can always buy episodes from the iTunes Music Store.
And that's a wrap for Bullet Sunday! Be sure to tune in to Pointless Drivel LIVE on BlogTalk Radio today at 4:00pm Pacific Time (or 3:00pm if you haven't set your clock ahead yet). Your life might just depend on it!
Well, maybe not yours, but definitely mine. I hear Fabby sends out assassins to kill you if his ratings drop when you guest-host.