Oops. I made an entry yesterday but forgot to set it to "publish" while I was trying to fix stuff on my blog. Better late than never, I suppose.
The thing about messing around with your blog template is that it's a never-ending battle. There's always One More Thing that you want to fix or change, and you can go positively insane trying to get it all figured out. I've been working on an iPhone template off-and-on for weeks and don't feel any closer to finishing it than when I started. It doesn't help that Movable Type has crappy documentation for the complicated new template structure introduced in version 4. Oh well. It's just a matter of finding spare time to sit down and rip through the learning curve via the infamous "trial-and-error" method.
Alas, spare time is always in short supply, so everything sits unfinished.
Though I did change my header graphic while on a long, boring phone call the other day, so I guess that's something.
Or nothing, depending on how you look at it.
Now, if you'll excuse me, I can't blog anymore because Mr. Bun and I have real work to do...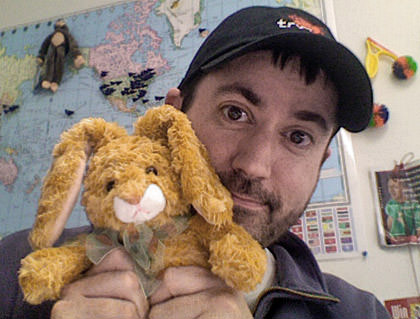 Say goodbye to Mr. Bun! He's off to Iraq next week!
Except when I say "real work" what I actually mean is "go home and read the pile of comic books that arrived in the mail yesterday."
I just hope Mr. Bun doesn't drop his little poop pellets on my Batman books like last time.
UPDATE: My blog is getting hammered by people refreshing to see all the header graphics, so I've made it easier for those wanting to see all fifty headers to see them by following this link.