Can you believe it was only a week ago that I was Bullet Sunday-ing with a hangover I got the previous night in Germany? I can't. Time seems to be getting away from me. Or my brain has been destroyed by alcohol.
• Licorice. I haven't eaten much licorice since Jenny unintentionally destroyed my taste for it by exposing me to the atrocity known as "Dutch Double Salt Licorice" while we were watching Pirates of the Caribbean 2. I had commented at the time that the Dutch are ingenious for managing to come up with something that tastes saltier than actual salt. Sometimes in the middle of the night I still wake up screaming because I have flashbacks to the agonizing burning of licorice gone terribly wrong. A year later, and I now learn that a friend of mine has a business importing Australian licorice to Europe. Once I get to his booth at the Germany candy show, he fills a bag full of samples and hands me a lifetime supply of licorice treats.
Which I have almost entirely devoured in just a week's time. This stuff is so fantastically delicious that the only word which comes to mind in describing it is "orgasmic"...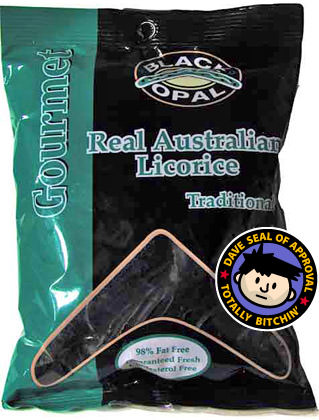 The licorice is yummy soft, but magically doesn't moosh together into a big sticky clump in the bag. The taste is bold, but tempered with just enough sweetness to keep it from being bitter. I am so addicted to the stuff that I may have to start smoking crack in order to wean myself off of it. While it's made in Australia, Black Opal is actually an American company, so I'm hoping I can buy it locally. If not, I see that Licorice International is importing it, so my dream of banishing the memory of Dutch Double Salt Licorice may finally become a reality.
• Microhoo. My opinion? Microsoft + Yahoo! ≠ Google. Save your money.
• Struck. Unless something totally unexpected happens, the Hollywood writer's strike should be over on Tuesday. Good deal? Yes. Great deal? Not really. I maintain that the writers deserve much more than they got, but that's negotiations for you. Of course, I'd be a lot happier for the writers if they hadn't made side-deals which allowed some writers to return to work while everybody else was on the picket line. Oh well... hopefully new television will be coming back soon, and that's what's really important.
• Paula. Yesterday as I was looking for a paperclip that had skittered under the refrigerator, my iPhone rings...
DAVE: "Hello?"
ROBERT: "DUDE! DID YOU RECORD THE SUPERBOWL?!?"
DAVE: "Errr... no."
ROBERT: "Aw, man! Super Deluxe Girlfriend erased mine."
DAVE: "Well, if it helps any, I hear that the Giants won."
ROBERT: "I don't care about the game, I wanted the half-time show."
DAVE: "Ah. Who was it this year?"
ROBERT: "Paula Abdul."
DAVE: "Uhhh... seriously?"
ROBERT: "Yeah, I like that song she did there."
DAVE: "Well, it would be pretty stupid to put a song out for the Superbowl and not release it. Have you checked with iTunes?"
ROBERT: "No."
At which point he hung up on me. But he called back five minutes later...
DAVE: "Hey, did they have it?"
ROBERT: "Yeah," he says dejectedly, followed by dead silence.
DAVE: "Is something wrong?"
ROBERT: "Without the crowd screaming and all the dancing to distract you, the song's not that good. Paula sounds like a robot singing into a bucket."
DAVE: "Oh. Sorry about that."
ROBERT: "That's okay. It's not your fault you ruined my life.
It would be nice to have a normal conversation with Bad Robert just once.
• Aid. One of the sheer joys left in flying (once you ignore the cramped seats, late departures, lost luggage, and your idiotic fellow passengers) is the SkyMall catalog you get on every flight. I have never purchased anything from it, but boy do I love to look. Half of the stuff is genius, half of it is crap, but all of it is interesting. My favorite item this time around is the "Stealth Secret Sound Amplifier"...
"If a conventional hearing aid sounds like an embarrassment to you, try the Stealth Secret Sound Amplifier. It looks just like a cell phone ear adapter and works as a sound enhancer so you can join conversations and even hear soft voices from 50 feet away. Now you can enjoy the best of both worlds: a more youthful appearance and better hearing."
Hey! It's working! You totally look more youthful...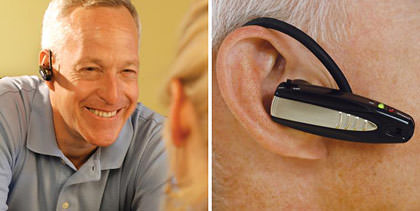 No. No, I lie. You so totally look like a dick...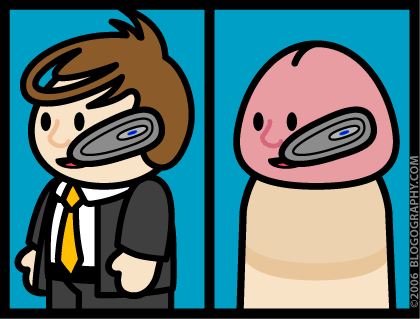 Bah! It's 7:00 and I really should take a minute to eat something. A Black Bean Chipotle Burger is calling me...