While waiting for my connecting flight into Milwaukee, I was sitting next to some teenage girls who were talking about all the stuff that teenage girls live to talk about. Boys. Shopping. Other girls they hate. The usual. Just as I was getting used to their endless chatting, they went into a giggle fit. Curious to know what was going on, I tuned in to the conversation. From what I could gather, they were all ga ga over an airline captain that had just walked in. Apparently, they thought he looked totally hot in his uniform.
"Pffft!" I thought to myself. Silly girls!!
And then I looked up.
Damn! The bastard DID look totally hot in his uniform!
It was then that I decided I should get me a uniform of my own so I could wear it all the time and be totally hot myself. Well, maybe not ALL the time... but definitely when I travel. And when I go to the grocery store. And when I eat at Taco Bell. And... well, yeah... I would wear it all the time...
Except...
While I am quite enamored with the idea of impressing the ladies by being an airplane captain, I worry that one day I might actually have to live up to the uniform. There I'd be... watching the latest episode of The Soup on my iPhone, happily minding my own business, when an airline attendant comes up and taps me on the shoulder...
Hot Attendant: Excuse me, captain?

Captain Dave: Yes. How can I help you, miss?

Hot Attendant: There's been an electrical problem in the cockpit. Our captain and co-captain are dead. We need you to make an emergency landing right away! And then, after we're on the ground, I need you to make love to me because, damn, you look so totally hot in that uniform!

Captain Dave: I see. Let me just wash my hands, and I'll be right there.

At which point I would lock myself in the bathroom and cry while the plane crashed into a mountain.
Maybe I should buy a flying simulation game for my Wii and practice it for a bit before I make myself look hot by dressing up as an airline captain? The cockpit of a commercial airplane looks kind of like my Wii controller, so what could go wrong? I wonder if The Captain from "Captain and Tennille" had to deal with this crap?
In other news, can somebody please explain this to me...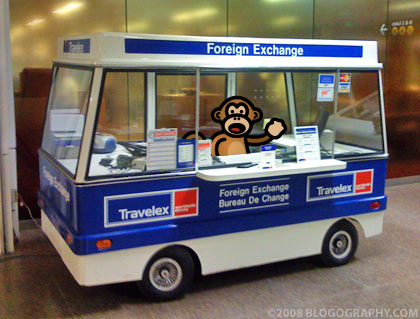 It's a foreign currency exchange booth.
On wheels.
It never actually goes anywhere, so why? Is it in case somebody somehow gets a gun through airport security and decides to rob the Travelex booth? What happens then? Does the person behind the counter just go "SURPRISE SUCKER!!" and drive off, foiling the robbery attempt? And, more importantly, is that thing street-legal? Because the only thing more hot than my wearing an airline captain's uniform would be to wear an airline captain's uniform while driving around in that sweet ride.
Though I'd have to put some bigger tires on it. And maybe some spinner wheels. I wouldn't want to look silly or anything.