It's very strange being in the land of Green Bay Packers when the big Seattle game is coming up this Saturday. I am hardly a Seahawks fan, but the never-ending smack-talk being aimed at my home-state team is still kind of surreal to me. But not surprising. In all my travels, it's hard to think of a state more devoted to to their football team than Wisconsin. They LOVE the Packers, and their devotion is hard to miss. Everywhere you go, everything's green and gold and team logos are plastered on every available surface. Brett Favre is worshipped as some kind of demi-god (though his three-time MVP status and amazing record probably justifies it).
To balance things out, I feel obligated to give a shout-out to the Seahawks, and wish them luck on Saturday...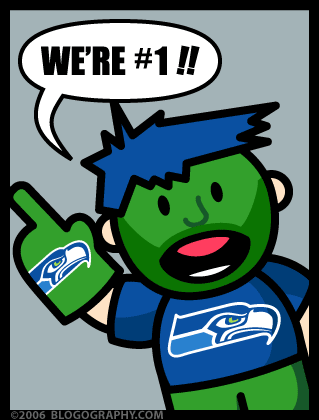 Oooh, look! I'm one of THOSE people now.
With nothing good on television lately, I've been distracting myself with DVDs of old television shows. On this trip, I brought Kitchen Confidential: The Complete Series with me...
The douchebags at FOX cancelled the show after only four episodes, but the DVD set gives you all thirteen episodes that were produced. Loosely based on Anthony Bourdain's scandalous tell-all novel of the same name, Kitchen Confidential was a truly funny show with a remarkable cast of actors. I remain mystified as to why this wasn't a massive, massive hit. Oh well, it was cancelled at the same time as the brilliant Arrested Development, so at least it was in good company.
The Writer's Strike has me not only revisiting old television shows, but also watching stuff that I never in a million years thought I'd ever be watching. My latest addiction? Disney's Hannah Montana...
Starring the father-daughter team of Billy Ray and Miley Cyrus, this series is about an average school-girl who lives a secret double life as the massively famous pop-star "Hannah Montana." Yes, it's a kids show that's meant for the teen-girl demographic, but it's also kind of clever as far as crap television goes.
Either that, or I'm just a big girl.
On the opposite end of the spectrum, I'm also addicted to Fight Quest!! The show follows two bad-ass fighters, Jimmy and Doug, as they travel the world to study different styles of fighting and martial arts...
It sounds like mindless violence, but it's actually pretty smart. While there is fighting, the show focuses on fighting as an art, not as moronic fisticuffs. Surprisingly fun to watch.
Either that, or I'm really needing to balance out my Hannah Montana habit.
Anyway... now that I'm done with work, I'm flying off for a vacation all my own. Sure it's only a day-and-a-half, but it's better than nothing. I just hope I'm not too tired to enjoy it.