Now that I'm back in the office, I'm opening up all the lovely holiday business gifts that companies sent to me while I was traveling. They're all pretty great, and some of them are remarkable in their extravagance, but one of the gifts has captured my heart...
A jar of gourmet jellybeans.
I love jellybeans, and having a big jar of them sitting on my desk is a real treat. Even if I end up going into a sugar coma because I am addicted to eating them one after the other.
The problem is that I don't like mixing the flavors, so half of my time is spent picking out the same color beans to eat. It makes me wish that there was somebody you could hire to come organize all your jellybeans and toss out all the flavors you don't like (for me that would be coffee and licorice)...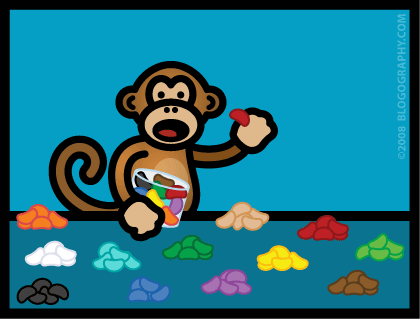 And now I'm off to wash clothes because there's not a clean pair of underwear left in the house.
Though I suppose there's nothing wrong with going commando on the weekend.