Gah! I am addicted to Guitar Hero! Every time I hear a song now, I picture those notes coming at me and start doing air-guitar button mashing. This is particularly embarrassing when the song is something stupid playing on the radio (this morning I was rocking to All Out of Love by Air Supply). I would buy Guitar Hero for my Wii, but I'm afraid that I would never leave the house again.
In other news... OMG! INDIANA JONES LEGO!!!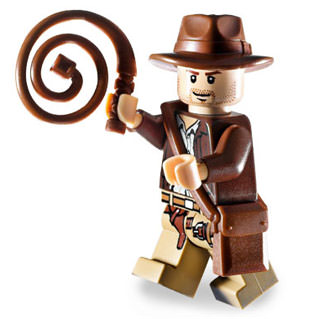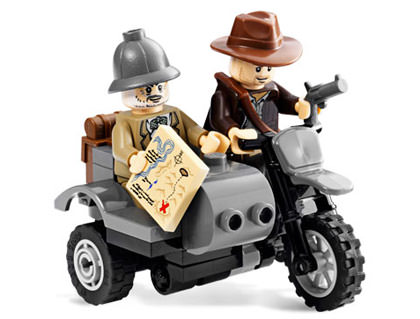 I can't stand tossing the word "cute" around... but aren't these so totally cute? While I thought the sequels pretty much sucked ass, Raiders of the Lost Ark is one of the greatest movies ever made, and has been a favorite of mine from the minute I saw it.
Which is why I'm terrified after reading comments by George Lucas in the recent Vanity Fair about the new Indy adventure... Indiana Jones and the Kingdom of the Crystal Skull...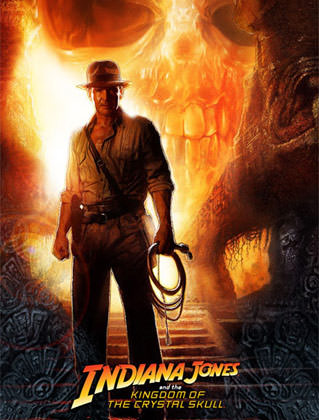 Basically, Lucas came up with a shitty idea for a fourth film that neither Steven Spielberg or Harrison Ford liked. But he kept ramming it down their throats and refused to come up with something different. Since Ford isn't getting any younger and everybody wanted to make a new Indy film, they eventually relented and let Lucas get his way. Considering the fucked-up mess that Lucas made out of the Star Wars prequels, my hopes for a decent film are pretty much dashed. I can only hope that Spielberg and Ford can transcend the material and at least come up with something entertaining that doesn't suck too badly...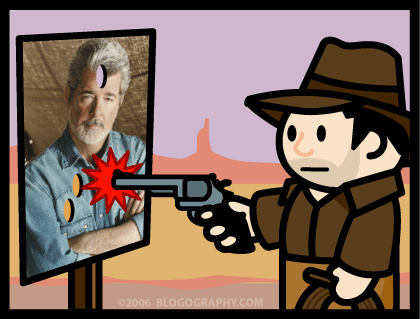 Oh well. I suppose I can always make my own Indiana Jones movie using Lego.
Wow... now that I think about it, that's a totally kick-ass idea.