People are always astounded to learn that I get a steady stream of hate-mail for my blog. I could pretend that I'm not astounded as well, but it's a mystery to me too. Because when you compare Blogography to other blogs out there, I'm downright tame. I rarely post anything nasty, political, or controversial... and it's got monkeys and cartoons in it!
For the most part, I don't much care about the haters who feel the need to write to me. They're usually just random whack-jobs who come here from a Google search. They read a single entry (or just a part of an entry), ignore the other 1,961 entries, and come to the conclusions they hate me enough to let me know about it. The breakdown works out to be something like this...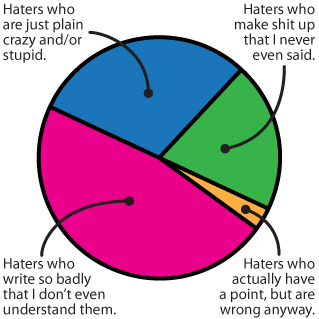 With statistics like that, it should come as no surprise that the vast majority of my hate-mail gets deleted immediately. Most of the time I don't even bother to read them before sending off my standard reply ("Thank you so much for your lovely letter regarding Blogography, and I look forward to making you even more angry in the future!") then hitting the delete key.
It's not that I mind having people hate me.
I'm just offended that they're so fucking stupid about it.
I mean, when the subject of an email you receive is "u're blog sucks" (I shit you not, that's one I got just yesterday)... exactly how am I supposed to react to that? I naturally conclude the author is a complete dumbass. Not only are they so stupid that they're blissfully unaware that they've abbreviated "YOU ARE BLOG SUCKS," but the abbreviation of "u're" is the exact same length as their intended "your" (if they were smart enough to know how in the hell to write in the first place). And if the subject is that asinine, why in the hell would I read the rest of it?
If somebody is going to hate on me, I wish they would at least be literate and entertaining about it.