It's Bullet Sunday in Biloxi as I wait for my first of four flights today! Nothing quite so fun as flying from one small city to another small city.
• Feature. I had five hours to catch some sleep before I had to meet the 4:20am shuttle to the airport. Naturally, this means that some stupid bitch has to dial a wrong number and wake me up shortly after midnight. And, of course, I hang on to my phone because I just know the dumbass won't bother to check the number, but will instead dial it again... and she does ("YOU. HAVE. THE. WRONG. NUMBER!!!"). Why doesn't iPhone have a "FAVORITES ONLY" feature?? A way of setting it so anybody NOT on your "favorites" list will automatically be dumped to voicemail with NO notification played? And, since I'm fantasizing here, why can't you put it on a schedule? Make it so anybody calling after 10:00pm or before 8:00am (or whatever) who isn't on your favorites list will be told to go fuck themselves? That would be an astoundingly useful feature, and I don't know why some mobile phone manufacturer hasn't implemented it.
• Etiquette. Speaking of mobile phones...why don't people realize is extremely rude to use your phone on public transportation? My shuttle may have left at 4:20am, but some bad-mannered fucker in a pink shirt managed to find somebody to talk to for the entire 30-minute trip to the airport. People are trying to catch some rest here, asshole.
• Handicap. And speaking of assholes... why is it that people using the handicap parking never know how to park a fucking car? When I was at my Milwaukee hotel, some idiot parked angled across three spaces (only one of them handicapped)... WITH A SUBARU! OVERNIGHT!! And, of course, since parking lots are personal property, there's no way to ticket the offense. This just encourages the morons to get worse and worse. And don't give me the bullshit "there wasn't room to get out" excuse. If that's the case, then pull up and drop off your passenger before parking so you're not blocking a walkway. Being handicapped doesn't give you an excuse to be a dick...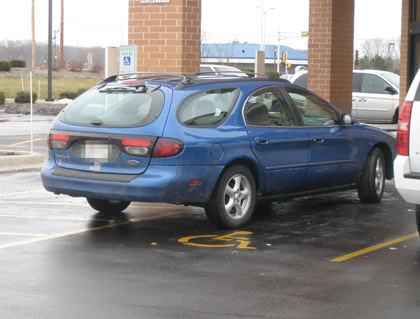 So what if I block the walkway! I'm handicapped, so fuck you!
• Prize. I've been trying to devise unique prizes and events for my fifth blogiversary coming up in April. One of my ideas was to have a prize drawing for a Dave Event in the city of your choice... anywhere in the world with an airport served by a major airline carrier. I figured it would be not only exciting for anybody who entered, but VERY exciting for myself. Who knows where I'd end up? I mean, if somebody in Seattle won, that wouldn't be much of a trip... but what if it was somebody in Bucharest? Or São Paulo? Or Jakarta? How cool would that be? I mean, Davekarta may only be a party for two, but that would still be pretty sweet. And then I got to thinking about it. Who knows where I'd REALLY end up? Pyongyang? Baghdad? Darfur? SACRAMENTO?!?*** Hmmm... actually, I wouldn't mind visiting North Korea... but there are some places that I just don't know how I'd do it. I dunno. Maybe there could be some kind of pre-approval process when you enter, but that kind of spoils the fun, doesn't it?
• Approach. Hmmm... I was just looking through my photos and noticed how cool the approach is into the Gulfport/Biloxi Airport...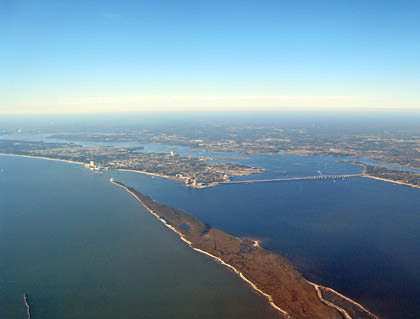 If you look really closely, you can see the Hard Rock Hotel & Casino!
On top of that, the airport here has FREE Wi-Fi internet and plays this totally awesome 80's soundtrack at full volume. Sitting here I've heard Thompson Twins, Devo, R.E.M., The Police, Talking Heads, The Fixx, Wang Chung, Billy Idol, Eurythmics, and Def Leppard! Sweet! It's almost worth coming to Biloxi just to use their kick-ass airport.
• MacWorld. Oh crap. MacWorld starts tomorrow. Since I didn't win a million dollars at the Hard Rock Casino Biloxi, I'm terrified at what Steve Jobs is going to unleash in his keynote. Undoubtedly something very expensive that I just can't live without (like a new $7000 Mac that fits up your ass and is controlled directly by your brain using radio waves). Sometimes being a Certified Mac Whore is not easy. Especially if you end up bankrupt. To tell the truth, I'd just be happy if Apple would fix iCal and Mail so that they were useable again. Between the HORRENDOUS FUCKING INTERFACE DESIGN CHANGES of iCal, and the CONSTANT CRASHING AND SLOW-SLOW-SLOW-SLOW START-UP TIMES for Mail that occurred with the OS X 10.5 Leopard release, I'm really starting to get pissed off. Apple is messing up bad, which is tragic when you consider they set the benchmark for this stuff in the first place.
And that's it for Bullet Sunday. I'll be traveling all day long and will probably head to bed the minute I get home, so I figured I might as well post it now.
*** Just kidding, Hilly. Juuuuust kidding.