Yesterday I left for the Biloxi airport at 4:00am and was dreading the day to come. With four connecting flights ahead of me... all with very short layovers... the odds of something going wrong along the way was huge. First flight: Biloxi to Memphis - on time. Second flight: Memphis to Minneapolis - on time. Third flight: Minneapolis to Seattle - on time. Fourth flight: Seattle to Wenatchee - uhhhhhhhhhh... not so much.
Wenatchee was fogged-in, and not a single flight had made it into the city all day. Not surprisingly, my flight was also canceled. This meant I got to hang around the airport with a bunch of really cranky people while waiting to see if we were going to be bussed, or if I would have to find a hotel and get re-booked for another flight.
And so the bus it was.
Three hours on a bus with 56 of my closest friends.
Which was lovely, let me tell you.
And yet, that was nothing... nothing... compared to the torture I was forced to endure tonight.
Because tonight was when a group of us from work decided to go see National Treasure: Book of Secrets.
Don't misunderstand me here though... the torture wasn't in watching the movie. Sure it was a complete re-tread of the first movie with no real improvements or memorable story elements. Sure it had so many plot holes that I was pulling my hair out at the end. And sure it pained me to see the remarkable Helen Mirren lowering herself to appear in something so mediocre and poorly directed. But all that was to be expected.
What was NOT expected was that Disney would make you sit through a Goofy cartoon before the film actually started. I fucking HATE Goofy. I find absurdly stupid cartoon characters to be just a annoying and un-funny as absurdly stupid people. I mean, seriously, this shit is supposed to be humor?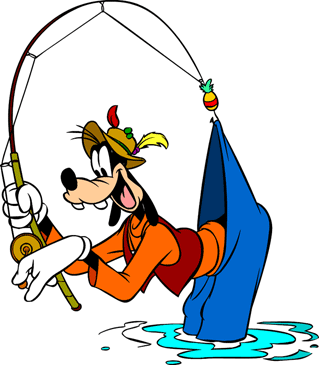 Well, no thanks.
I prefer to take my crappy movies WITHOUT a shitty cartoon up front.
Goofy?
Sigh. I would gladly trade every Goofy cartoon ever made for a single new episode of Invader Zim.