Milwaukee's General Mitchell International Airport is fairly small, so some of the "features" of larger airports are compromised. This doesn't bother me in the least, as I generally find smaller airports to be much less of a hassle.
One thing that Milwaukee doesn't have is a dedicated first class line through security. Instead, they have a shortcut that lets you jump to the front of the line. Even though I am usually flying first class, I never use the shortcut. I would feel like an asshole cutting in front of somebody who has been standing in line for twenty minutes, so I don't do it. Rather than being so exceedingly rude, I just show up to the airport early enough that I can stand in line with everybody else. It's no big deal...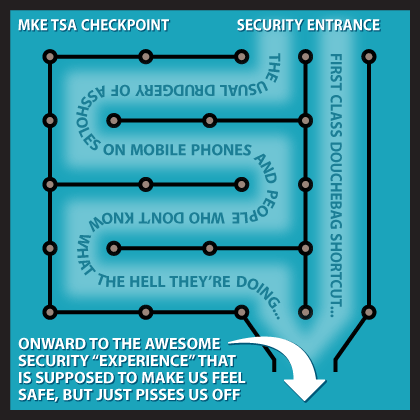 Well, it's no big deal EXCEPT when some asshole comes charging down the first class shortcut line and tries to cut in front of me.
Then it's a very big deal.
Rude Bastard: I need to squeeze in front of you here...

Dave: No you don't.

Rude Bastard: I'm first class! You've gotta let me in there!

Dave: (holding up my ticket) Yes, well I'm first class, so you're going to have to wait.

Rude Bastard: If you're first class, why the hell aren't you in the first class line?

Dave: Because I'm not a total douchebag.

Guy Behind Dave: (as he gets cut in front of) Douchebag. =snicker!=
Now, to be fair, the guy IS playing by the rules. Milwaukee has it set up so that first class passengers get to be douchebags, and he's just taking advantage of it. But is it really that hard to show up to the airport fifteen measly minutes early? You may be flying first class, but that doesn't make you a better class of person. I really wish that Milwaukee would just get rid of the stupid shortcut line entirely. It would make for a more comfortable security experience for everybody involved.
Except the douchebags, of course.
But who gives a fuck about them?
Aw, heck... I'm on vacation! For a whole day-and-a-half! I don't care anymore!
"Vacation... all I ever wanted. Vacation... had to get away. Vacation... meant to be spent alone."