"Thank you for staying with us, and we wish you magical dreams!"
—Disney Wake-Up Call Service Center.
Uhhh... yeah... now that I am checking out of the Happiest Place on Earth tomorrow morning, there are five words I don't want to hear for a while: 1) Dream. 2) Wish. 3) Special. 4) Wonder. 5) Magic/Magical. I fully understand and appreciate that Disney is trying to create an environment that's fantabulous and all, but you can over-use buzz-words to the point where they not only lose their meaning, but also make you sick of hearing them. I'm to the point now where every time I hear a recorded message with the word "magical" used more than five times (which is all of them) I want to kill myself.
Today my only goal was to get back to the hotel at a decent hour so I can get up and make my 3:30am airport shuttle in the morning. Other than that, I really didn't have anything in mind. I thought maybe I'd pick up a few souvenirs and meet my friend Anne for dinner (she has an Annual Pass, but hasn't used it once in the seven months she's had it... "this will help me get my money's worth," she says).
To kill time, I finally decided that I would go to all four parks so I could ride both my favorite ride AND a ride I've never ridden before. Since it's cold, cold, cold outside, I put on a jacket.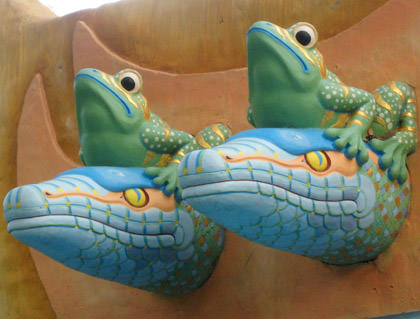 Frogs on snakes? Only in Animal Kingdom, baby.
Animal Kingdom.
My favorite attraction in Animal Kingdom is Expedition Everest. Since the line to ride it was pretty short, I went ahead and rode it twice. It's so cool that I just can't get tired of it! The ride I've never ridden before is DINOSAUR! I was told by a number of people that it was kind of lame, and I had already ridden Jurassic Park at Universal Studios... so I never bothered. I talk about it in my "Today's Attractions" below but, suffice to say, it's not that great of an experience.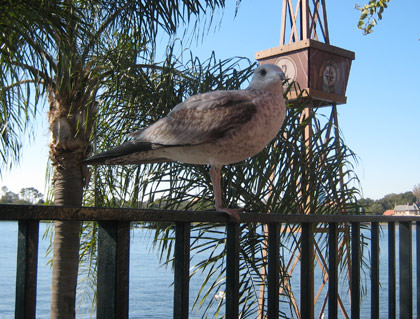 This fearless little bastard was eyeing my burrito!
Epcot.
I guess my favorite attraction here is Mission: SPACE so I was sure to hit it before I ate lunch (a decent "wet burrito" in the Mexico Pavilion). Unlike Expedition Everest, I am getting a little tired of this attraction, having ridden it three times now. Finding a ride that I've never ridden before was difficult, because I've been here so many times that I've ridden them all. Eventually I noticed that the 360° panorama film "O Canada!" had been updated (with new host Martin Short), so I figured that would fit the bill. Along the way to the Canada pavilion, I see this sign for a Candlelight Procession Special, hosted by a big-name star...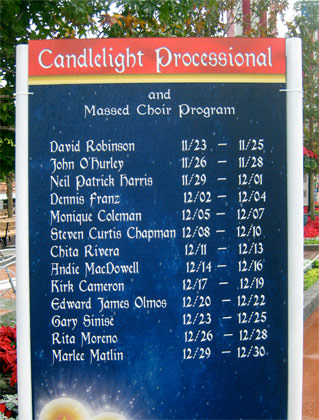 That's Neil Patrick Harris, bitches!!
The guest star for today? "Way of The Master" douchebag Kirk Cameron ("YOU'RE ALL GOING TO HELL BECAUSE YOU DON'T BELIEVE EXACTLY THE SAME WAY I DO, AND I CAN'T STOP SMILING ABOUT IT!!!!). Guess I won't be sticking around for that shit. But I do drop by the Japan Pavilion before "O Canada!" so I can stock up on more Japanese candies. There was still a bit of room in my suitcase, and we can't have that.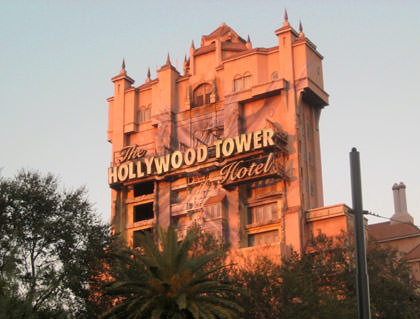 You're travelling through another dimension, a dimension not only of sight and sound but of mind...
Disney MGM Studios.
About the only attraction here I like is Twilight Zone Tower of Terror, so riding it is a no-brainer. When it comes to something I haven't ridden, I have my choice of a few things, but ultimately end up picking The Great Movie Ride for some reason. This ride is so lame that it had me wishing I'd gone back to Epcot so I could watch Kirk Cameron.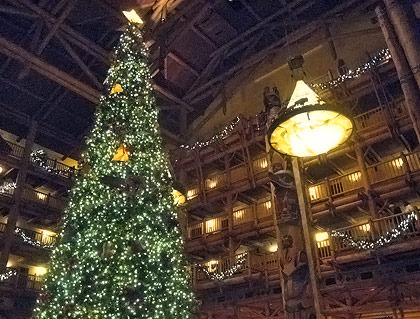 Winner, winner, chicken dinner!
Disney's Wilderness Lodge.
We ate dinner at my favorite Walt Disney World resort property... The Wilderness Lodge. It was magical.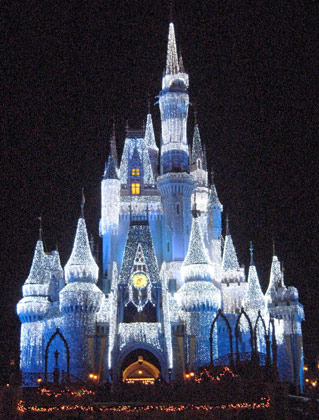 It's a special magical dream of wishes and wonder!
Disney's Magic Kingdom.
My favorite ride here is easily Splash Mountain, so off I went. When I got there, I thought that the ride had closed. Nobody was around. But then I saw a "cast member" who assured me it was open, so I went ahead and rode it. ALONE. There was NOBODY there. Nobody in front of me, nobody in back of me. I boarded a log-car all my own (choosing the second row to avoid getting too wet), and that was it. Splash Mountain was EMPTY...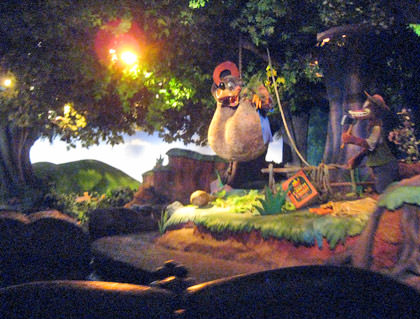 Off I go to the Laughing Place... the Laughing Place...
It's amazing how much more I could appreciate the ride by myself. First of all, I heard a lot of sounds, dialogue, and atmosphere audio effects that I had never noticed before because other people had been talking and screaming. Second of all, I didn't get wet at all... I'm guessing because the log was so much lighter without seven of my closest friends riding with me. It was SWEET! I thought Big Thunder Railroad would be empty too, but it had a 25 minute wait. My guess is that people were avoiding Splash Mountain because they didn't want to get wet while it was so cold out. When it came to riding something I had never ridden before, I couldn't find anything that sounded good, so I headed back to the hotel so I could pack. As I was making my way through Main Street, I was stopped so a parade could go by. The name of the parade tonight? WISHES, of course...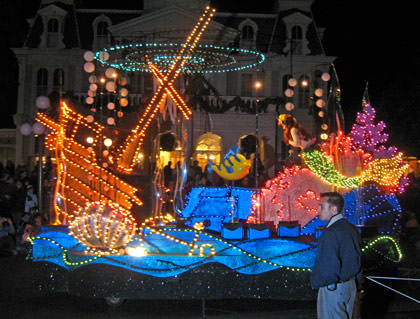 It's The Little Mermaid! NAKED!! w00t!

Sucker fish or blow fish? I can't decide. Maybe a little of both.
ATTRACTIONS OF THE DAY...

• DINOSAUR! This could have been a very cool attraction, because it uses the same nifty vehicles that Disneyland uses for the Indiana Jones ride. And, on top of that, it's got dinosaurs in it! But most of the ride is just dark with nothing happening, which is lame. And when you finally do get to see dinosaurs, they're kind of rubbery-looking things that aren't even the least bit interesting. Sad. Disney should spend the money to fix this and turn it into a killer attraction. Wikipedia Link.

• O Canada! A beautiful film featuring highlights of our neighbor to the north, projected in 360° panorama. Very nice, and capably narrated by Martin Short (who wouldn't be my first choice, but oh well). Wikipedia Link.

• The Great Movie Ride. Billed as "A Spectacular Journey INTO The Movies" this is about as lame a ride as you can find at Disney World. After boarding moving theater bench-cars, you ride through boring dioramas from an assortment of popular films. Along the way your host interacts with stuff which has an almost "so bad it's good" quality to it, but ultimately fails to be entertaining. This is a wholly missable attraction that should be closed so the space can be used for something much better. Wikipedia Link.
And thus ends my Disney Dream Vacation! Now I get to take a brief nap before getting up in three hours so I can catch my Magical Disney Express to the airport. Bleh.