This Bullet Sunday was a fairly laid-back day. Since it was raining in the morning, I stayed in bed until 10:00 before venturing out for my morning beignet fix. From there it was just another walk in the park (or two).
• Davelando. Due to both the holidays and a plague descending upon Orlando (seriously, it seems everybody here is sick or getting sick or recovering from being sick), it was just Avitable, Jess, and myself for dinner last night when we met up at the money-making factory known as Downtown Disney...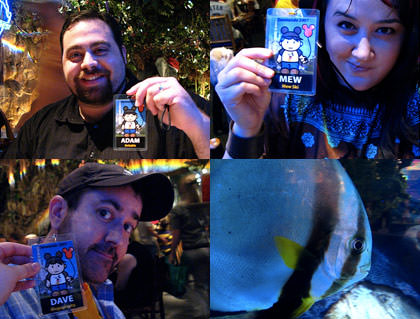 It was a great time to hang out, chat, and stare at the fish. At least it was until Avitable decided that everybody at the Rainforest Cafe needed to see his testicles, at which time we were asked to leave. Fortunately, they still let us keep our souvenir light-up action glasses...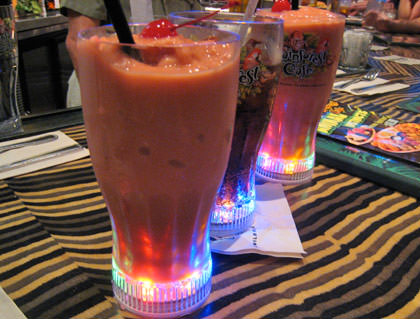 • Banded. Disney has a perk for their resort hotel guests called "Magic Hours." You just show your room key at a designated Magic Hours Station, and they slap a wrist-band on you so that you can keep going on rides for a couple hours after the park has closed to everybody else. When Dale and I were at Epcot a couple nights ago, we passed one of these stations where a little boy was getting his wrist-band. At first he thought it was cool and was waving it all around. But then he tried to remove it... "AAAAAAAAHHH! IT WON'T COME OFF! IT WON'T COME OFF!" The kid was freaking out, and nothing his parents said would console him. Finally, they removed the band and the poor kid just stood there crying... "I can't eat breakfast tomorrow with that on my arm!" he explained. Sometimes kids are the most logical people I've met.
• Gingerbread. For lunch today, my friend Dale and his wife met me at The Grand Floridian hotel here at Disney. We decided not to eat there but, before we left, we went to see a giant gingerbread house they had built in the lobby. It was so big that ladies were inside of it selling stuff out the back. It was weird, but kind of cool...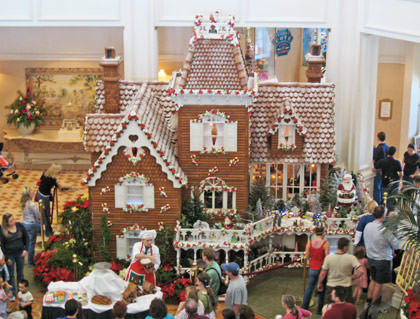 • Guides. After Dale and his wife headed off, I went back to The Magic Kingdom to use my Space Mountain FastPass that I had been given when the ride broke down a couple days ago. After I had goofed around for a bit, I walked through the shops and spotted this really cool book called "An Imagineering Guide To The Magic Kingdom." It has all kinds of interesting trivia and information about the park, and I couldn't live without it. As I was paying for my book, the cashier asks "do you already have the other two?" at which time I realize there must be books for Epcot and Animal Kingdom/MGM Studios too. Sure enough, I do a Google search and there they are. Now I have to go track down the other two. Very, very cool companion reference when visiting Walt Disney World. I wish I had them with me earlier...
• SPACE. While waiting for my "FastPass" time to come up for the Soarin' attraction tonight, I headed over to ride Mission: SPACE again, since there was no wait. As I was approaching, I noticed how beautiful the building was at night and went to take a picture. But, for some reason, my camera refused to focus on it. I could snap pictures of everything else in the area no problem, but Mission: SPACE refused to be photographed properly. Bizarre, but still pretty to look at...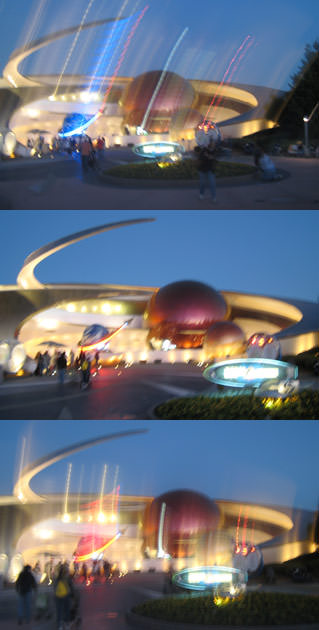 ATTRACTIONS OF THE DAY...

• Stitch's Great Escape. This is not a very good attraction, having been retrofitted from the "ExTERRORestrial Alien Encounter" scare ride from years ago (which was far better, made more sense, and featured the voice of Tim Curry!)... but it has my favorite animated Disney character of all time in it... Stitch! The audioanimatronic robot they've built for him is incredible, and he moves around like he's real. It's well worth seeing for Stitch, but everything else is kind of lame. Wikipedia Link.

• Space Mountain. One of the most brilliant ideas for a roller coaster ever, I love Space Mountain. The only problem is that the seats in the Orlando ride are really uncomfortable if you're tall and have limited flexibility like I do. My shins got all banged up, and my legs ache after I manage to climb out of the thing. But I love the attraction too much to care, and ride it even though I know I'll suffer for doing so. An endorsement doesn't get much better than that! Wikipedia Link.

• Haunted Mansion. I have been wanting to see the Nightmare Before Christmas theming of this ride for a very long time (missed it by ONE DAY when I was in Disneyland earlier this year!). Unfortunately, the Disney World version doesn't get themed for Nightmare Before Christmas, so this is yet another year I'm missing out. I was told that this Haunted Mansion got an upgrade... and I did notice a few changes, but it's still pretty much the same ride it's always been. This is probably not a bad thing. Wikipedia Link.

• Soarin'. The best ride at Disney's fairly lame "California Adventure" park, it proved so successful that they decided to duplicate it at Epcot. Using IMAX technology, you fly over scenic California on massive "hang gliders" that move in sync to the film giving the illusion of flight. Very, very cool, but crowded... the only ride during my entire visit where I was forced to take a FastPass ticket because the line was over an hour long. Wikipedia Link.
It's Stitch! One of the coolest attractions at any Disney theme park was a "video conference booth" that links you up with Stitch in Hawaii so you can talk and interact with him. I got to experience it in Disneyland, but have no idea if it's there anymore. I can't really explain it except to point to some brilliant videos on YouTube (there are bunches of them, and they're all amazing). Here at Disney World, they have the same thing with Crash the turtle from Finding Nemo. If you have kids (or are a kid at heart) this is a can't-miss attraction. I love Stitch...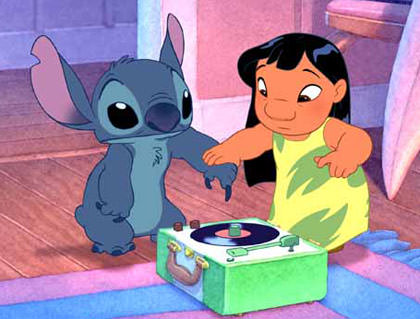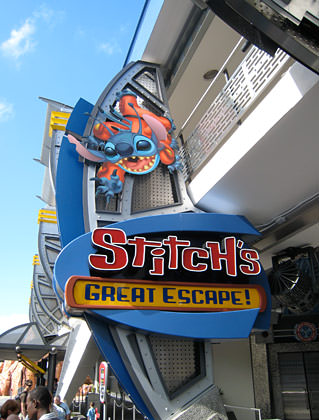 And thus ends my fourth day in Walt Disney World. One day left to go...