Waaaaahhh... I should not be blogging! I have to get up and go to the airport in 4 hours. But I just can't stop myself because it's Bullet Sunday!
• TiVolutionary. The one thing I positively loathe about TiVo is its constant need to "phone home" for updates and crap. Since my TiVo Series One is nowhere near a phone jack, I have to stretch a cord across the room in order for it to do its business. Given what a pain this is, I only do it once a month or so. This makes TiVo very cross indeed, and he sends me error messages every day until he gets his phone call. I'm so adept at ignoring his messages that I only today noticed that it has been six months since TiVo made a call. Oops. I wonder if TiVo ever refuses to work if you haven't dialed in for an extreme amount of time?
• New Frontier. One of my favorite "Absolute" volumes from DC Comics is "The New Frontier" by Darwyn Cooke. It's a very cool retro-style take on super-heroes that's done far better than I would have thought. Now they've gone and made a movie from the material, and I want it pretty bad. Unfortunately, this photo is as close as I'm going to get until it's released on February 26th...
• Powered. Why can't everybody use the same plugs on their power adapters? I've got at least twenty different power adapters, and I am getting tired of trying to figure out which one goes with which peripheral. I thought I was making headway on the problem by choosing a single manufacturer for my external hard drives... the LaCie drives designed by F.A. Porsche. They're beautiful, reliable, and all use the exact same power adapter. Except today I find out that the two new drives I just bought are using a DIFFERENT power adapter than my older drives. WTF?? Bad enough to have different power adapters from different manufacturers... but the SAME manufacturer with the SAME product? What dumbass thought this was a good idea? Surely not F.A. Porsche himself?
• Davelando. Ooh! After my work in Wisconsin, I'm heading down to Orlando for work and fun at Disney World! If anybody is in the area and wants to goof off, just email me and I'll see if we can find a time to meet. There's probably going to be a blogger dinner one of the nights I'm there, but no time has been decided yet.
• Time Machine. And, lastly, can I just give a big "thank you" to whatever Apple Genius came up with their new Time Machine backup software? I've lost count of the number of times my ass has been saved by this remarkable program. I never realized just how many times I need to recover old files until Time Machine arrived.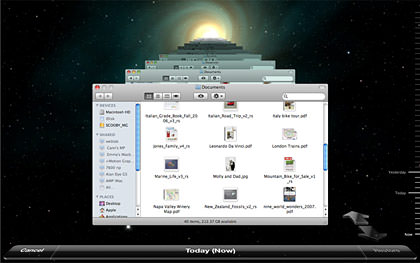 Ugh... no more bullets. I'd say "good night" but it doesn't make much sense to go to bed when I'm just going to have to get right back up again in a few hours. Oh well. My first class upgrades came in for all my flights, so I guess I'll have plenty of room to get some sleep on the plane.