This morning I was walking to my car so I could drive to work when I saw something laying in the flower bed. Stopping to investigate, I realized that it was a knife(!).
From watching hundreds of episodes of CSI: Crime Scene Investigation, my mind immediately started thinking that this must be evidence in a murder, and needed to be preserved before somebody came along and destroyed any fingerprints or traces of blood...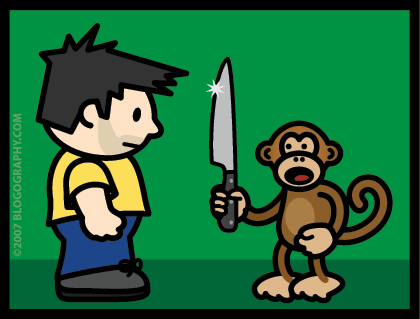 Running back to the kitchen, I grabbed some plastic bags. Two smaller bags I wore on my hands so I could put the knife in a larger bag without contaminating it with my own fingerprints. Gil Grissom would be so proud.
Except when I picked it up, I realized the knife was made of rubber, and only then did it occur to me that it was probably just part of somebody's Halloween costume. Robbed of my big murder mystery, I threw the "knife" in the trash bin and just stood there with a plastic bags on my hands, staring into space.
So much for a morning filled with excitement and danger...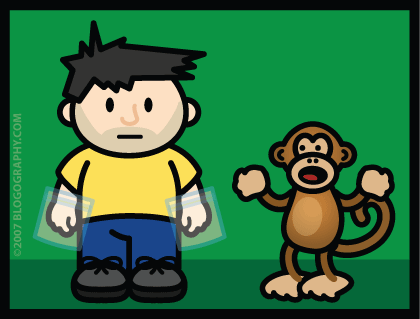 Anyway... I have the answer to yesterday's Hallowmeme Challenge in an extended entry...
On Halloween I participated in the "Behind The Mask" meme, where I posted 42-pixel snippets from blogs of the 50 bloggers I've met...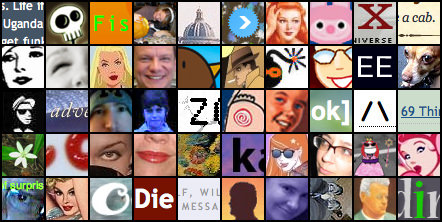 Which gets numbered out like this...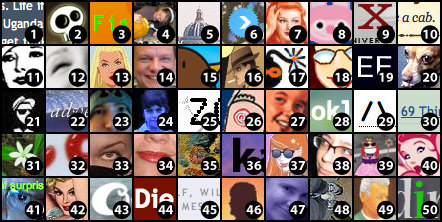 Which gets answered like this...
World of Chad
Thoughts Travel
Postmodern Sass
Ajooja
And there you have it, the bloggers I've met.