Ooh, look! SJ from Pseudotherapy came up with a new Hallowmeme... Behind The Mask: Who's That Blogger?
The Official Rules: "This is, appropriately, a meme of many faces. The basic idea is to present info on other bloggers and see how many of your readers can guess who's who. What info and how you present it is entirely up to you! Choose your victims (famous or obscure, as you wish), decide on a concept and get busy!"
As a visual-type person, I decided to snap a small square from everybody in my "Bloggers I've Met" list (found either in my Home Page Sidebar or my Blogroll Page) and see how many of them people could guess...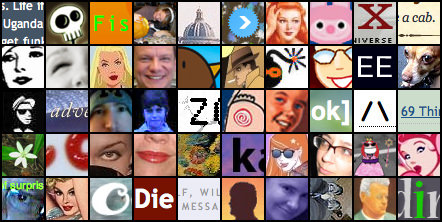 I think I could probably guess most of them... but there's three or four that might give me some trouble.
Happy Halloween everybody!