WAAAAAAAAHHH!
Well, I've done gone and sliced my right-hand index finger reeeeeeal good. Twice. The cuts are pretty deep, and band-aids weren't helping much. I finally used super-glue and strips of gauze to close the cuts, then bandaged everything up with hopes that I wouldn't bleed to death.
So far, so good.
Except my finger hurts a lot. Which makes typing in my blog kind of clutzy and painful.
But drawing isn't so bad, because I can use my middle-finger to mouse-click*...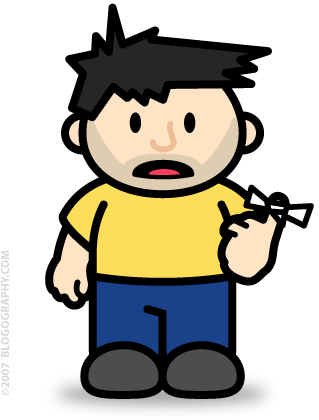 I am such a weenie when it comes to bleeding.
And pain.
Which is why I'm going to take a couple of Excedrin PM now so I can forget my pain and get some sleep. If you don't hear from me ever again, it's because the super-glue dissolved and I bled to death in my sleep. Oh well. I suppose there are worse ways to go.
*Even more importantly, I can also still use my middle-finger to flip people off.