My anticipation that today was going to suck ass somehow made it bearable.
Well, that, and knowing that at the end of the day I would be having dinner at David's Pizza.
The 3-hour drive to Spokane, which was kill-me-now-boring (as always) was made even worse this time because I got a late start and had to navigate the traffic pouring out of the city. For reasons I cannot begin to fathom, some of the stupidest drivers on earth tend to congregate on the single-lane road between Wenatchee (Apple Capitol of the World!) and Quincy (Best Corn on Earth!)...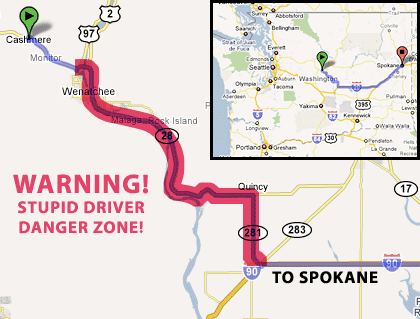 More than once along the way I wanted to drive my car off a cliff so that I wouldn't have to deal with the insanity anymore. Police cars patrol the stretch regularly, but don't seem to do anything about people driving 10mph under the speed limit, or weaving all over the road because they're talking on their mobile phone instead of paying attention to where they're driving. Dumbasses.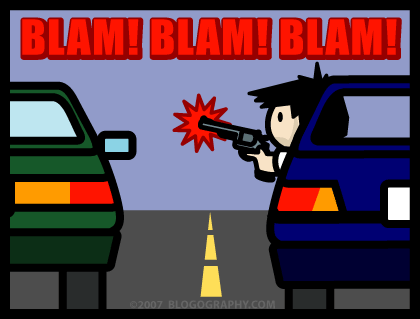 And tomorrow I get to do it all over again on the way home!
I'm so excited that I could just shit myself.
But right now there's a new episode of Reaper on, so that will jut have to wait.
UPDATE: Oh great! My hotel's crappy internet connection keeps cutting out. This seems to be happening more and more when I travel anymore. If a hotel has a flakey internet connection, they shouldn't be able to advertise having internet at all, because it's not always true. Bastards.