Oh! Oh! Oh! OH! OH! OOOOOOOOOOOOOHHHH!
After driving three hours yesterday, all I really wanted to do was get some sleep. I had to get up early this morning, and a good night's rest would go a long way toward my day getting off to a good start. Except I think we all know I'm just not that lucky. Around 1:30am there was a loud bang followed by wild moaning coming from the room behind my headboard. In my groggy state, I first thought that a woman was being killed next door. But after I woke up I realized that it was just a woman being killed next door.
I think she was faking it.
Or she was having the best sex of her life.
Or she was being murdered. I dunno, because it's such a fine line.
And now it's time for...
WHICH IS SCARIER? While shopping for dental floss, I came across something disturbing. Which doll is more terrifying... George Bush or Hilary Clinton?...
If you said anything except "both" then you're wrong. They are equally scary, but for very different reasons. And some of the same reasons. All I know is that either doll would scar a child for life.
And now it's time for...
WHAT'S WRONG? Other than the fact that I'm trying to use my camera while driving, what's wrong with this picture?...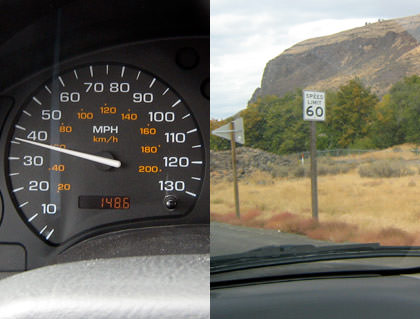 If you said "Dave is overdue for his oil change," then you're wrong. Well, you're not totally wrong... I am totally overdue for my oil change, but that's not what I was going for. No, what I was going for was that I am driving 36mph in a 60mph zone here... BECAUSE THE DUMBASS AHEAD OF ME WON'T GO THE SPEED LIMIT! Yet if I were to run them off the road so that they explode in a fiery ball of death and destruction, it would be ME who would be considered the criminal! There is no justice.
And now it's time for...
WHAT'S THE SIGN? After driving past several miles of rocky cliffs, rock-filled walls, barriers constructed out of rock material, and actual rocks, what do you think this sign is going to say?...
If you said "Wild Dingo Crossing" then you're wrong. No, the sign that somebody felt was worth spending several hundred dollars to erect here says "ROCKS." Because stating the sublimely obvious is money well spent...
And now, from the "I swear I am not making this stuff up" department, I got another wrong number call while driving back home today...
DAVE: Hello?

GUY: Yeah, is Jayden there?

DAVE: Nope. Sorry, you've got the wrong number.

GUY: So you're not Jayden?

DAVE: Not right now.
WTF?? You have the wrong number but you expect to end up talking to the person you were calling anyway?!? How exactly is that supposed to work? Are you calling with a MAGIC phone?
And now I'm going to bed to do do New York Times Crosswords puzzles on my Nintendo DS until I fall asleep. Which will probably be in about 10 minutes.
I hope.