There are perfect days... and then there are perfect days.
Since Hilly and I are BFFs in the blogosphere as well as in real-life, we had made plans to spend today in Disneyland. I didn't have any work appointments, so it was a great idea because I hadn't been to the park in a long while. I used to go all the time, but kind of got burnt out on the whole Disney thing, and stopped visiting around seven years ago.
Anyway...
For a reason unknown to both of us, we decided to become Southerners for our day of Big Disney Fun, and took on the entirely new personas of "Hilly-Sue O'Hara" and "Davy-Joe Butler" all frickin' day...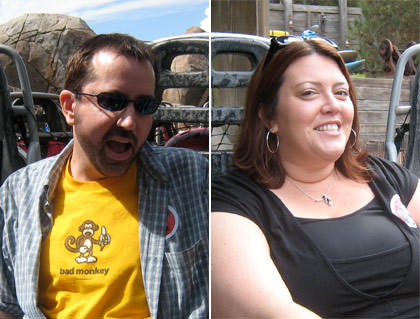 Davy-Joe and Hilly-Sue ride the Grizzly River Run!
We started off in the California Adventure park, where the first ride we went on was the Grizzly River Run. It was very cool and got us very, very wet. The not-so-cool part was when something went wrong with the ride, and we were stuck at the top of the falls for around 10 minutes. Little did we know that this would not be the last time something like that happened.
Soaking wet, we moved on to the remainder of the park... which is actually kind of lame. Most of the attractions are just off-the-shelf stuff with none of the clever theme-work that Disney is famous for. With the exception of "Tower of Terror" (which is missing some of the cool stuff you get to see in the Orlando version) everything is just so ordinary. In my humble opinion, California Adventure is kind of an embarrassment for Disney and should have never been made. They should have worked harder to come up with better, more interesting, and certainly more unique, attractions.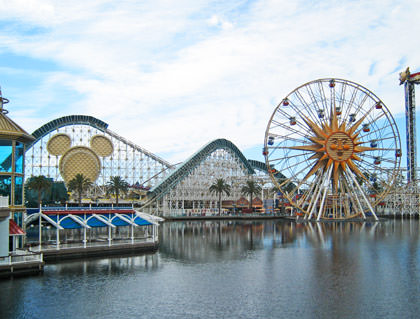 Borrrrrrrrrring!
Though I DID get to meet one of my favorite cartoon characters ever... Sully from Monsters Inc.!!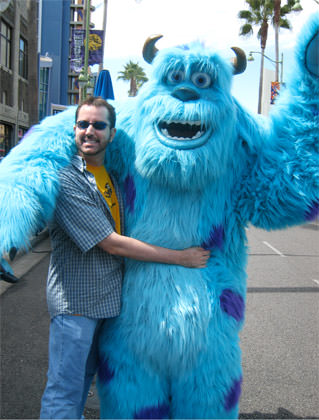 I love you Sully!!
As we went back across the plaza to Disneyland, we started noticing some very cool things. First of all the weather, which we had heard would be filled with rain, actually ended up being a positively stunning day. All the clouds were gone within an hour leaving us with nothing but blue skies and cool breezes for the rest of the day...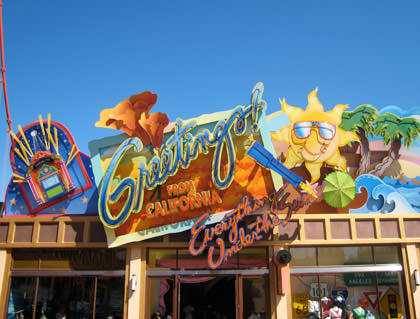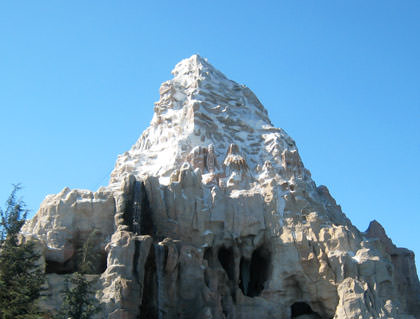 The second cool thing was that both parks were entirely decked-out for Halloween...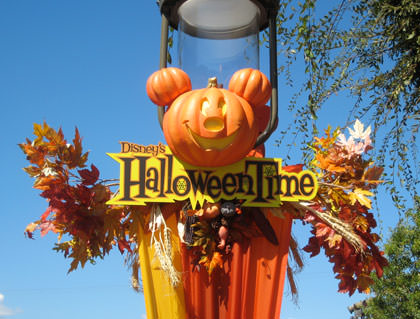 But the BEST cool thing about our visit?? NO LINES!!!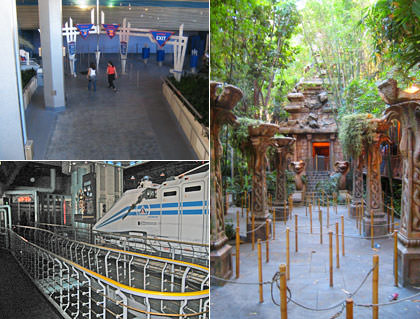 Except for the brand-new Finding Nemo version of the old Submarine Ride in Tomorrowland (which is excellent, by the way)... we didn't stand in line for more than a few minutes on anything! The queues were wide-open, meaning that we could just walk up to all the rides and walk-on. Sweet!!
And walk-on we did... to all but two rides we were wanting to visit. The Haunted Mansion was closed so they could re-theme it for "A Nightmare Before Christmas." And The Matterhorn broke down right as we were next in line to board a bobsled. But everything else... from Splash Mountain to Pirates of the Caribbean to Space Mountain was a piece of cake.
Between the perfect weather, HalloweenTime fun, Hilly's company, and NO LINES, this is the single best trip to Disneyland I've ever had.
The only bummer was when we were reminded that Dustin wasn't there joining us every time we saw a churro cart...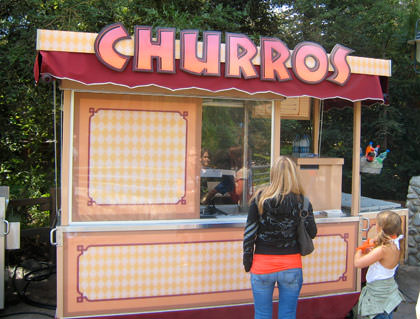 And when we finally had to leave as the park was closing at 8:00...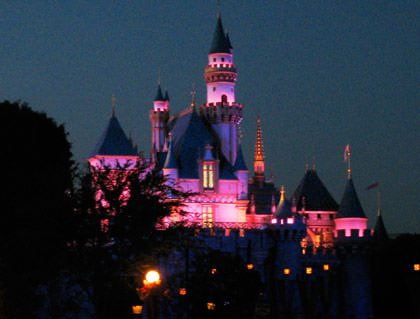 All-in-all, the entire day was some kind of Disney magic!
And now I'm exhausted from walking entirely too much, eating entirely too much, and talking entirely too much... time to drop into a coma.
Where I'll be dreaming of Mickey Mouse and my perfect day at Disneyland.