On top of having the ebola virus (or whatever), I find myself to be in a really cranky mood. I was forced to leave work early because my eyes would not stop watering, and so now I'm even farther behind than ever. Just writing this blog entry is a huge effort that's probably going to take forever. Since I am mostly incoherent, I should probably just lay down some bullet-points full of whining and be done with it.
• Desktritus... Avitable has picked up on a meme whereas you share a photo of your desk. Of course, anything Avitable does seems to propagate through the blogosphere like a wildfire, meaning that if I don't participate there must be something wrong with me (even RW is doing it!). The problem is that there IS something wrong with me and I'm at home sick. This means I can't snap a photo of my nicely-organized work desk... oh no! I have to use a photo of my home desk, which is pretty much a disaster area that should be condemned...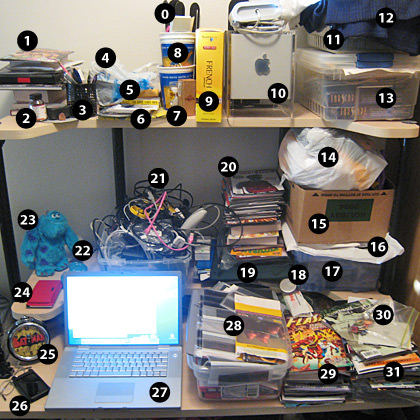 Here you go Avitable, you bastard!
0) Business cards from people I will never contact, 1) A stack of books to read (probably recommended by Vahid), 2) A bottle of melatonin, 3) A pencil cup with my Maui shark keychain and assorted pens, 4) A plastic bag with a defective camera lens in it, 5) Two tarot card decks (I'm making my own Bad Monkey Tarot, and need them for reference), 6) An unused plastic rain poncho I got from Disney World, 7) A shot glass from my trip to the Hard Rock Lisbon, 8) Coin cups from the Hard Rock Casino Las Vegas with loose change inside, 9) My Rosetta Stone French course, 10) My Mac G4 Cube that I can't bear to get rid of, 11) A container full of Lego pieces, 12) A spare blanket from my car, 13) A container with Farscape trading cards and autographed photos of the cast, 14) A bag of rejected shirts from the Artificial Duck Store, 15) A box of souvenir crap from my trip to China, 16) A bag with an original Chris Ware print from a trip to Chicago needing to be framed, 17) A container filled with Japanese manga comics, 18) A tube with a poster from my trip to The Vatican Museum, 19) A hardcopy of my book, 20) A stack of comics I've read and need to file away, 21) A mess of cables and a LiveStrong bracelet, 22) A voodoo doll from my trip to New Orleans that really works, 23) My Sully plush from Monsters Inc., 24) My old Nintendo DS, 25) My Batman alarm clock that Karl gave me at TequilaCon, 26) My iPhone and glasses, 27) My MacBook Pro, 28) Old film negatives that I need to send in for scanning, 29) Comics to read, 30) Buttons left over from Davecago2, 31) Comics to read after I have a few more issues.
Yeah, that's pretty bad. But, in my defense, I've been traveling and working a lot and haven't had much time to clean it up around my home.
• Theft... I am constantly getting emails from people telling me of dumbasses who steal stuff from Blogography and try to pass it off as their own. Whenever I confront these idiots, it's always the same story... "I just wanted to share it with my readers!" Well, if that's all you wanted, then why not link to the original source? Or, if you simply must post it on your site, why not at least credit where you took it from? Otherwise, you're nothing more than a douchebag thief, passing off somebody else's work as your own.
My Creative Commons license is very generous. As long as you aren't a commercial site making money off my stuff, go ahead and take anything you want... as long as you credit me as the creator with a link to the source material. If you don't credit the source, you're breaking my copyright and the law. If you post my material on a site whose primary function is selling advertising, that's a commercial site and your're breaking my copyright and the law (even if you credit the source). It's not rocket science, it's the difference between right and wrong, and I'm tired of it. If you are totally incapable of saying anything original and have to steal all your content, then just give it up you thieving hack.
• NBC... I pay for DirecTV, so I don't buy many television shows online. I prefer to wait for the DVD. The only exception are those times I miss an episode, or I'll buy shows just to have something to watch when I'm stuck somewhere without entertainment. This is why Apple's iTunes Store is so great... it's so easy to buy a shows whenever you want. The $1.99 price tag is a bit steep for what you get, but I'm willing to pay the money for the convenience of it all. Except now NBC Television has decided to pull out of the iTunes Store because they want $4.99 per episode, and Apple (quite rightly) said no. IS NBC OUT OF THEIR FUCKING MINDS? Let's take a look at current options for obtaining television programs. As an example, I am using the first season of NBC's hit program Heroes...
Current
iTunes

NBC
Wants

DVD

HD-
DVD

Bit-
Torrent

Cost/
Episode

$1.99

$4.99

$1.60

$3.04

$0.00

Cost/
23 Eps

$45.77

$114.77

$36.89

$69.85

$0.00

Cost/
Season

$42.99

???

$36.89

$69.85

$0.00

Legal?

Yes

Ha!

Yes

Yes

No

Quality

Low

Low

Med

HD

HD

Extras

No

No

Yes

Yes

Maybe

Media

No

No

Yes

Yes

No

iPod
Ready?

Yes

Yes

No

No

No

Wait

Short

Short

Long

Long

None

DRM?

Yes

Yes

Kinda

Yes

No

Fucked
Up?

Kinda
Maybe?

FUCK
YES!

Not
Really

NO...
Cool!

Not
Ethical
Who in their right mind would pay $4.99 for a television show that's of low quality, has DRM crap encoded in it, is more expensive than a DVD set loaded with extras, comes without any storage media, and is more expensive than even HD-DVD? NOBODY! That's who! Digital delivery of files is the cheapest possible method of distribution with practically no benefits (except convenience) yet the legal options for buying it always cost the most. That is totally fucked up. Fuck NBC. Fuck them up their stupid, greedy asses. And bravo to Apple for not caving to idiocy, and being willing to lose money rather than compromise to a no-win situation.
• Adobe... After having had to get my MacBook repaired because of a TSA agent dropping my battery on it and denting the case, something was wacky with the hard drive and I had to reformat it. This is no big deal, I keep full backups of my data, and I don't mind reinstalling my software. Unless that software comes from Adobe. Because of their new online activation bullshit, I ended up having to call in to get technical assistance so I could access software I PURCHASED DIRECTLY FROM ADOBE. This idiocy is meant to stop software piracy, but all it does is piss me off (meanwhile, cracked versions of the software are available on BitTorrent, which means that it doesn't stop piracy in the first place). What kind of company purposefully initiates a scheme whose only effect is making their loyal customers hate them? Why do I pay these idiots to treat me like a criminal?
• Finale... Eh, that's enough bitching for one day. I'm going to see if a couple of tubs of chocolate pudding will make me feel any better.