And here I am in Los Angeles on "Talk Like a Pirate Day" after a very early flight out of Chicago.
When I first started coming here for work years ago, I never drove anywhere. I was provided a car and driver, and never much had to think about where things were at. Eventually this got kind of boring and I wanted to make my own way around, so I started renting a car whenever I had work here. For a nine-month period, I was flying down to L.A. fairly frequently, and got to know the streets of the city pretty well. In many ways, it's Los Angeles I have to thank for teaching me how to really drive a car.
Alas, my trips to L.A. were less and less frequent as time went on. I'm lucky if I make it once a year now. Because of that, I don't feel as comfortable driving here as I used to. It's far easier to just schedule the car and driver or take a taxi.
But never walk.
Today I made the huge mistake of choosing to walk in a city where nobody walks. It was only six long blocks, but I could feel the stares of confusion and contempt as people went driving past. "Funny, he doesn't look homeless!" I imagine them saying. I became worried when I waited at crosswalks that drivers who were stopped at the light were going to panic and throw money at me so that I would go away.
But it was a beautiful day. Plenty of sunshine, but not too hot and with a nice breeze going on...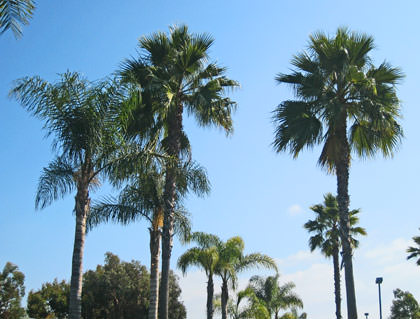 Pretty much everything you want from a day in La La Land.
Except...
Los Angeles is such a bittersweet city for me.
I have great friends here. I remember good times here. There are places I treasure here.
But L.A. is a city that can really destroy you if you're not careful... more-so than any other city I've been to. My "big break" here ended badly, and I consider myself lucky to have escaped with my spirit and sanity (somewhat) in-tact. There are so many reasons I should hate this place.
And yet...
Los Angeles is always calling me in the back of my mind.
Because there are also so many reasons I love this place.
And a part of me just can never... let... it... go.
That's probably a good thing.