I finished with work around noon, and had made plans for lunch with the fabulous Suzy Soro from Hollywood: Where HOT Comes to Die! I figured she would be passed out from hunger in the 90 minutes it would take to drive across town and pick her up but, in what must have been a record of some kind, my driver managed to make the trip from LAX to the Hollywood Hills in under 40 minutes!
Once Suzy was on-board, we made our way to the Hollywood dining institution of Pink's for hot dogs...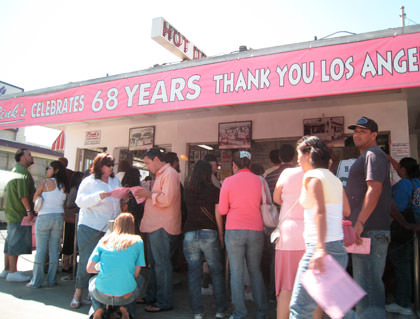 The line never seems to drop below a 20-minute wait at Pinks any time of day.
Liz over at Everyday Goddess had told me that they served a veggie dog, and I was anxious to try it out...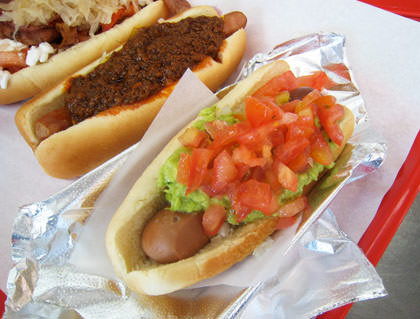 My Patt Morrison Baja Veggie Dog, Suzy's Chili Dog, and a Martha Stewart Dog for our driver.
After getting our driver his hot dog, we grabbed a table inside to eat. Then, as if by magic, I look up and there was Betty White! Well, not actually Betty White, but an autographed photo... right between Nelly and Eduardo Arroyuelo...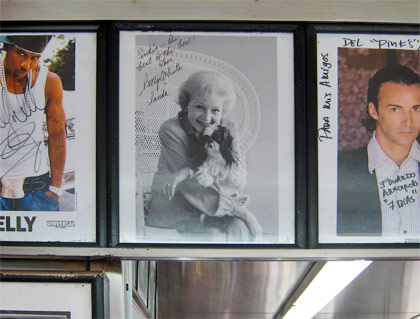 I love Betty! Betty White totally kicks ass!
My "Patt Morrison Baja Veggie Dog" was covered in really good guacamole, then smothered in chopped tomatoes & onions and tasted fantastic! I'm going to have to try making them myself when I get back home.
After lunch we went up to the Hollywood Walk of Fame so we could say hello to Catherine, then went star searching...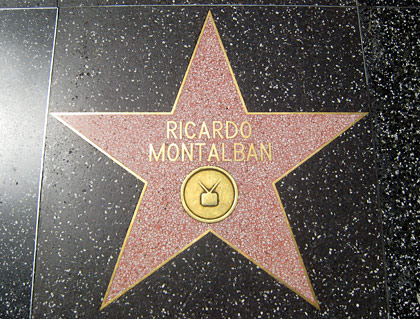 KHAN! KHAN! KHAAAAAAAAN!
We also ran across this totally sweet puppy. I wanted to put him in my pocket and take home...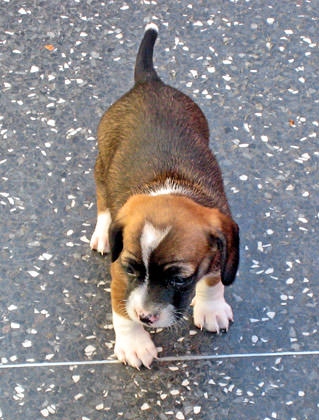 Yeah, it doesn't get much cuter than that.
Once I had bought a crappy (and totally inaccurate) Star Map, our driver took us through Beverly Hills and down Rodeo Drive so we could see how the other half live and shop. From there Suzy and I decided to go down to Venice Beach, where the storm we've been expecting for two days was laying just off the coast. This made for some cold weather, but beautiful background scenery...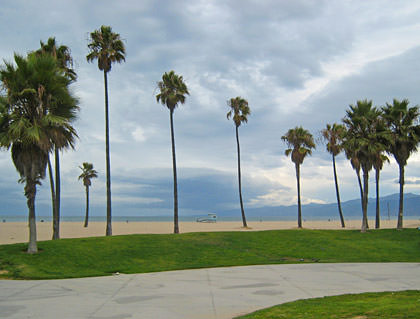 More bars in more places... Cingular is now the new AT&T.

The fabulous Ms. Soro at Venice Beach just before the rain.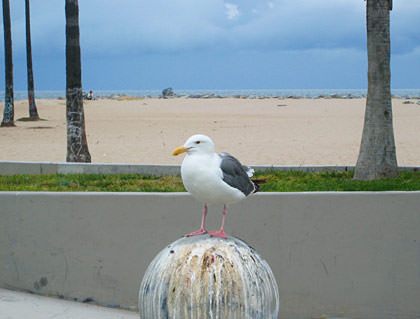 Mine! Mine! Mine! Mine!
After being assaulted by every hip-hop hopeful in Los Angeles wanting us to listen to their music and buy their CD, it was time to head back. I only had the car until 6:00, and the horrendous Friday rush-hour traffic over to Hollywood and then back to LAX was going to tear through that like wet toilet paper.
And so here I am back at my hotel getting some more work done while trying to decide what I want for dinner.
I can't really decide, because all I really want is another Pink's veggie dog.